Back
07.06.21
Sailing Championships 2021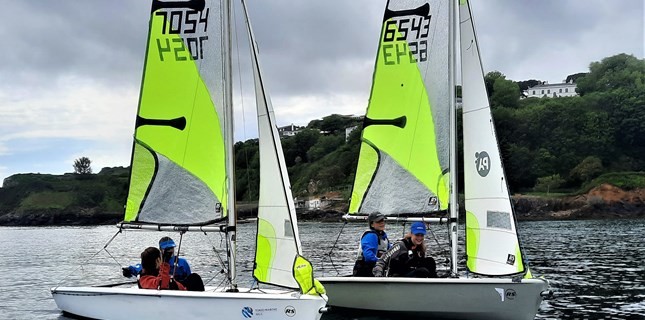 The weather forecast for the 2021 College Sailing Championships was not promising. There was very little wind as the twelve competitors from Lower 4 to Upper 5 rigged their six RS Fevas, and it dropped to nothing soon after they launched, so that most had to be towed around to the race area in the Havelet Bay Fairway.
Once there it was decided that the light Easterly sea breeze was just sufficient to attempt a start, so a short triangular course was set and the first sequence got underway, with most sailors adjusting to the slow pace of manoeuvring during the pre-start. Hannah, with her crew Jess, had a great start and soon stretched out a considerable lead, which they managed to maintain throughout the race and won, despite Jess and her crew, Hannah's sister Heather, playing catch-up and finishing hot on their heels in second. Lily had a tricky start with Amy and did very well to finish third, whilst Bella  and Mia very nearly got away with a port-hand flyer, but ended up having to do a penalty turn which cost them dearly in the light winds, so they did well to finish fourth.
Race two took place on the same course, and this time it was Lily and Amy's turn to get away cleanly, leading most of the way up to the first mark, but they tacked a little early, allowing the Lower 4 team of Jess W and Heather's to overtake and stay in front for their first win. Bella and Amy had been fortunate to come out of a bunch unscathed at the start, and also managed to pass Lily and Amy for second, whilst Hannah and Jess D had a torrid time, taking a penalty turn after getting squeezed out, and taking fourth place.
Going into race three, Jess W and Heather were leading in the standings with their first and second places from the first two. Their light crew weight was well suited to the conditions but they had displayed great skill as well. However, they misread a large wind-shift and ended up posting a fifth, behind Bella in first, Hannah second and Lily once again third, as well as Eleanor and Olivia in fourth. Beyond that details are somewhat scant, as the race committee spent this race dealing with a sinking boat, as Abi and Charlotte had forgotten to fit their bung.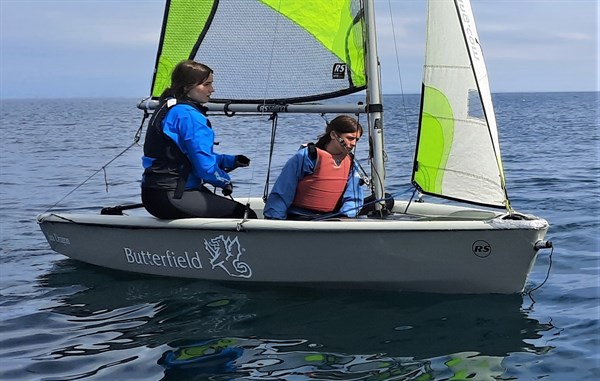 With six boats back in action for race four and the breeze now filling in from completely the opposite direction, the course was quickly flipped and lengthened before going into sequence once again. However, no sooner had the start signal sounded but the wind shifted again, meaning no tacking was required to get to the first mark. With crew weight less of a factor, Hannah and Jess D took the honours convincingly, though Jess W and Heather found their form again to take second. Bella and Mia posted a solid third to equal Jess and Heather on ten points, with Hannah and Jess D leading by only two on eight. Eleanor and Olivia managed another fourth place whilst Abi and Charlotte would have had a cracking start if only they hadn't been just over the line on the whistle, requiring them to turn around and start again, and pushing them back to fifth, but this time it was Lily and Amy's turn for a disastrous result, leaving them seven points below the podium and taking them out of contention.
It was decided we had time for one last race, and with the wind picking up still further, a longer, straight windward-leeward, or "sausage" course was set, with a proper beat this time. From the outset it was a tussle for first place between Hannah and Jess W, though Jess managed to stay in front. With Hannah and Jess D's series lead, second would have been sufficient to see them win, but they had a shocker of a final beat to the finish, allowing Bella to come through, pushing them back into third, which meant they were on equal footing with Jess W overall. Then Abi and Charlotte squeezed by to end their run of bad luck and push Hannah to fourth in the race, and down to equal second overall with Bella. Finally Lily and Amy edged ahead as well, taking fourth, and pushing Hannah back to fifth, meaning a demotion to third overall in the dying seconds.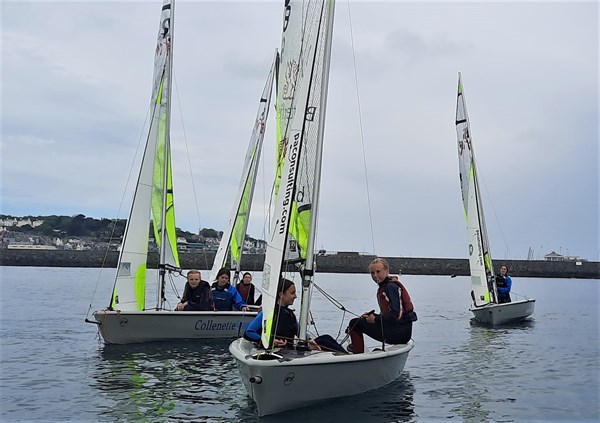 Despite the light conditions, these championships, the first for several years, were hotly contested, with only two points separating first and third, and only one splitting fifth and sixth, and the "down to the wire" finish to the event was incredibly exciting, especially for those of us who knew how close the standings were, right up to the final few seconds. This certainly bodes well for a post-COVID resurgence of The Ladies' College sailing over the coming years.
Back