Pastoral Care
A young person will achieve their best if they are happy and inspired to do well by experienced and enthusiastic teachers who care about them as individuals. At The Ladies' College we care as much about a student's well-being and happiness as we do about their academic progress.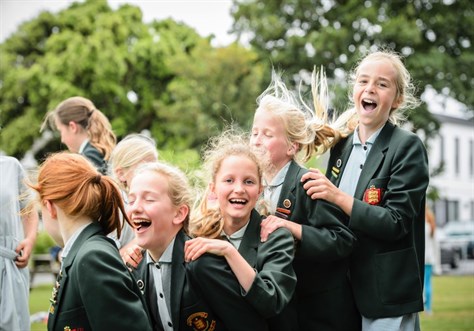 In our last ISI Inspection, The Ladies' College provision for pastoral care, support and guidance was judged to be excellent with well-developed systems to deal with pastoral issues promptly and effectively. We continually monitor and review all aspects of our care for the students and we hope this document will inform you about the guidance and support we provide.
Our Pastoral Structure
The Form Tutor
Each student belongs to a small tutor group. The tutor has the responsibility to set high expectations in terms of behaviour and attendance within a safe and happy environment and to establish good relationships with students and parents. Tutors meet with students at least twice a day in the Senior School and it is anticipated that most matters or concerns from the girls, parents or subject teachers will be addressed by the tutor.
Year Co-ordinators
The Year Co-ordinators provide additional support and care especially with regard to more serious concerns.
| | |
| --- | --- |
| Remove Year Co-ordinator |   Mrs L Cory |
| Lower School Co-ordinator, Lower Four |   Miss C Alston |
| Lower School Co-ordinator, Upper Four  |   Mrs M King |
| Upper School Co-ordinator, Lower Five |   Mrs C Gribbens |
| Upper School Co-ordinator, Upper Five  |   Mr T McGovern |
| Sixth Form Co-ordinator, Lower Sixth and Upper Sixth    |   Miss E Clements |
| Deputy Principal, Head of Pastoral Care |   Dr V Mitchell |
| Principal |   Mrs A Clancy |

The Deputy Principal has overall responsibility for pastoral matters and parents are welcome to make contact.
All teachers, particularly Form Tutors and Year Co-ordinators, take an interest in your daughter's welfare and will talk to your daughter about a range of issues which may affect her over time. If you have any concerns about your daughter's welfare, please do not hesitate to contact the College. From time to time, some students will experience specific difficulties and we will support your daughter and work with external agencies as required. Some girls simply want to talk over their concerns and in addition to their Form Tutor and Year Co-ordinator, they also have the opportunity to discuss matters with visiting professionals, such as the College Nurse and other outside agencies. We also have a College Counsellor who runs weekly group sessions aswell as 1-2-1 sessions.
To contact us about your daughter's attendance please ring (01481) 721602 or email reception@ladiescollege.ac.gg.
To otherwise contact a tutor or year co-ordinator about your daughter, please email them on initialsurname@ladiescollege.ac.gg, for example jsmith@ladiescollege.ac.gg.
To contact Dr V Mitchell our Deputy Principal (Pastoral) about your daughter, please email vmitchell@ladiescollege.ac.gg.

  Click this link to our Policies page
Supporting Information

  Joining The Ladies' College Senior School and Sixth Form: Induction

  E-Safety

  Eating Disorders

  Drink and Drugs

  Sexual Health

  Self-Harm

  Useful sources of help or advice