Bring your own Device (BYOD)
The College has a campus wide wireless network that enables students to bring their own devices into school.
Remove to Upper Five must have a Bring Your Own Device (BYOD) e.g. tablet, smartphone, iPad, or laptop. Students should also have headphones with them. The Sixth Form are required to have a device with a physical keyboard such as a laptop or a tablet with attachable keyboard. 
These devices can be Apple, Windows or Android based and they will be used in lessons, for homework and project work wherever appropriate.
Students must make sure that the files it contains do not contravene the College Acceptable Use policy and we recommend that files needed for their subjects are stored on Students OneDrive on the Office 365 acount that is provided for them.
Students should access the internet through the College network. This automatically filters and monitors unsuitable content, including stopping social media notifications. Where parents choose to allow students to use a device with 4G we would ask that social media notifications are turned off during the working College day and that the device does not contain age-inappropriate content/applications e.g. Facebook (13+), Instagram (13+), WhatsApp (16+).  Net Aware is a website is a website that provides guidance to parents and there are a number of software applications available to help parents manage what students can access and download on their device.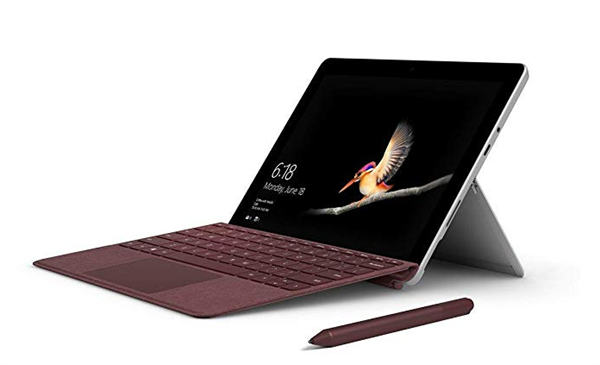 Key criteria for a device are: 
Lightweight, battery life of 6 hours +, camera and Wi-Fi. A touch screen size of 10"+ and a keyboard is recommended. 
Our current recommendation is for a Microsoft Surface Go, with keyboard.
We are in the process of rolling out a 1:1 device program, with devices being ordered via a tile on the Parent Portal. Further details will be revealed at meetings planned for later this term.
If you require further advice, contact Mrs Le Cras, our Network Manager at the College who would be pleased to help.
---

All students of The Ladies' College have Office365 included as part of our College subscription.
Instructions to download this can be found here for Windows and Mac laptops and here for Android/iPad/iPhone devices.
 Take your Files with you when you leave
                              Follow the link to an article on how to transfer your files to a peronal OneDrive when you                                  leave us.
---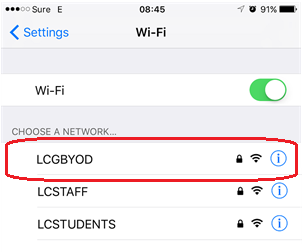 To connect an iPad or mobile device to the College Wireless system you will need to use the LCGBYOD wireless ID. If you are asked to "Verify the Server Identity" just tap Continue. If your device requires further https certificates then please click here to install an https inspection certificate.
Students and staff should connect to LCGBYOD  using their College computer network username and password. Tap Login and you will now be able to access the internet in College. You cannot, however, access your College "My Documents" folder. To access files that you have created on the network, these will need to uploaded to the internet using Onedrive (part of your Office 365) or the College Sharepoint.
If Students are having any difficulties connecting they should use the Student Help Desk link  or discuss their issues with one of the IT Support staff.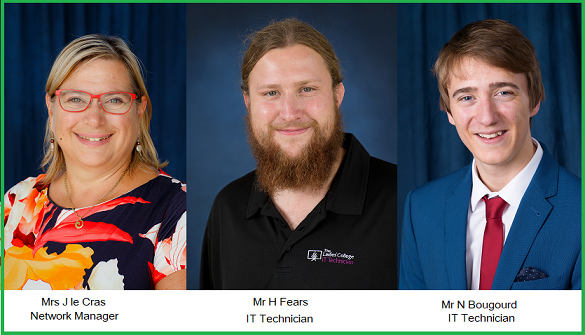 Applications - suggested applications to be downloaded to your device

  Parent Zone - Experts on digital parenting

  CEOP- Advice on child safety online

  FAQ

  Connection instructions for Mobile Devices

  IT Resources and Apps

  Using OneDrive on Mobile Devices

  ICT Policy (includes Acceptable Use Policy)

  BYOD (Bring your own Device) Policy