Bring Your Own Device (BYOD)
The College has a campus wide wireless network that enables students to bring their own devices into school. Students do need to install a security certificate and instructions on how to do so are given to them.
Upper Four to Upper Five must have a Bring Your Own Device (BYOD) e.g. tablet, smartphone, iPad, or laptop. Students should also have headphones with them. The Sixth Form are required to have a device with a physical keyboard such as a laptop or a tablet with attachable keyboard. We are currently in a transition process where, from September 2019, all new Remove (Year 7) students will be required to have a managed device of either a Microsoft Go (recommended) or Microsoft Pro Surface device. New Remove parent will be contacted concerning a Purchase Through the College Scheme before the end of the preceding Summer Term.
From September 2021 all students will be required to have a Microsoft Go or Pro that is managed on the College network. Students should also have headphones with them.
The Digital Strategy Powerpoint is available, with notes here
A list of FAQs re the Digital Strategy can be viewed here
---
We strongly recommend all parents and students buying new devices to purchase our recommended device through the College. In order to build the devices to our network as managed devices, we require them delivered to the College unopened or they will need to be rebuilt by our IT Department, which may incur an additional charge. Students must make sure that the files it contains do not contravene the College Acceptable Use policy and we recommend that files needed for their subjects are stored on student's OneDrive.
Students are provided with a Microsoft Office 365 account including email, online storage (OneDrive) and applications such as Word, Excel and PowerPoint. They will also be using the College SharePoint (containing resources accessible at any time) and Teams sites (a virtual classroom - used for setting homework/assignments/additional resources as well as being able to discuss work). Increasing use is being made of digital technology to complement other learning techniques and develop the digital skills required for studying beyond College and moving into employment subsequently.
Students should access the internet through the College network. This automatically filters and monitors unsuitable content, including stopping social media notifications. Where parents choose to allow students to use a device with 4G we would ask that social media notifications are turned off during the working College day and that the device does not contain age-inappropriate content/applications e.g. Facebook (13+), Instagram (13+), WhatsApp (16+).  Net Aware  

  is a website is a website that provides guidance to parents and there are a number of software applications available to help parents manage what students can access and download on their device.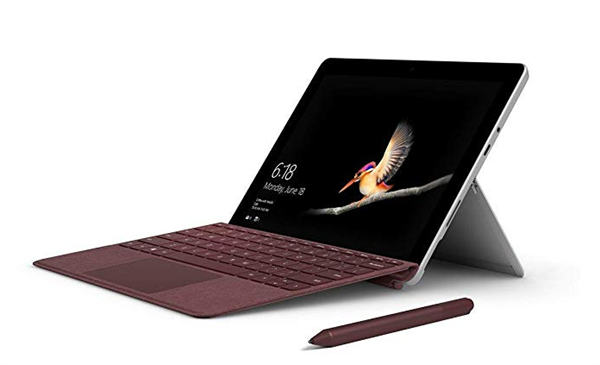 Key criteria for a device are: 
Lightweight, battery life of 6 hours +, camera and Wi-Fi. A touch screen size of 10"+ and a keyboard is recommended. 
Our current recommendation is for a Microsoft Surface Go 2, with keyboard.
Students using their devices more intensively e.g. Sixth Form and some GCSE students, may wish to purchase the Microsoft Surface Pro which has a larger screen and faster speed. A suitable case is recommended. We do not recommend the purchase of a pen currently and suggest that if you do decide to purchase a pen that it is kept at home – the College cannot accept responsibility for the loss of these. All devices can be ordered via a tile on the Parent Portal that takes you to a MS Form with the options (e.g. case) and prices. Once you have completed this you will be contacted by our supplier to arrange payment, the device will be registered to you and delivered to the College where it will be built onto our network and given to your daughter. Further details will be revealed at meetings planned for later this term.
If you require further advice, contact Mrs Le Cras, our Network Manager at the College who would be pleased to help.
---

All students of The Ladies' College have Office365 included as part of our College subscription.
Instructions to download this can be found here  

  for Windows and Mac laptops and here  

  for Android/iPad/iPhone devices.
Take your Files with you when you leave  

Follow the link to an article on how to transfer your files to a personal OneDrive when you leave us.
To connect an iPad or mobile device to the College Wireless system you will need to use the LCG-Wifi wireless ID. If you are asked to "Verify the Server Identity" just tap Continue. If your device requires further https certificates then please click here  

  to install an https inspection certificate.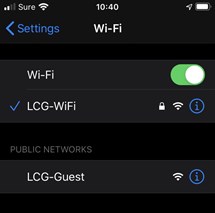 Students and staff should connect to LCG-Wifi  using their College computer network username and password. Tap Login and you will now be able to access the internet in College. You cannot, however, access your College "My Documents" folder. To access files that you have created on the network, these will need to uploaded to the internet using Onedrive (part of your Office 365) or the College Sharepoint.
If Students are having any difficulties connecting they should use
the Student Help Desk  

 or discuss their issues with one of the IT Support staff, Mrs Le Cras, Mr Bougourd or Mr Andrade.

  Applications - suggested applications to be downloaded to your device

  Frequently Asked Questions

  Connection instructions for Mobile Devices

  IT Resources and Apps

  Using OneDrive on Mobile Devices

  ICT Policy (includes Acceptable Use Policy)

  BYOD (Bring your own Device) Policy

  Parent Zone - Experts on digital parenting

  CEOP - Advice on child safety online