Examinations
Key Dates 2020
GCE A-Level results will be published on Thursday 13th August 2020 and available for collection at 08.30 on this date.
GCSE results will be published on Thursday 20th August 2020 and available for collection at 09.00 on this date.
Refreshments will be available in The Core for you and your parents on both dates.
Arrangements for awarding grades 2020
We appreciate you may have felt both disappointment and relief when the examinations were cancelled. Results days are always an emotional time as they represent the culmination of many years of work. This year will be no different in that regard, yet it is different in the way that the grades have been awarded. Instead of grades being awarded as the result of a final series of examination assessments, your teachers have worked hard to follow the guidance from Ofqual and the examination boards to submit a grade for you. This grade is one that we feel we can evidence and represents the 'most likely grade that you would have achieved' had you sat the examinations as planned.
•  Teachers used a range of evidence, including the mock examination from February and any non-examined components, such as coursework, to produce a Centre Assessed Grade for you and then a rank of students in each subject at that grade.
•  These grades were then reviewed against historical evidence from past examinations sat at the College in that subject, alongside the expected attainment of the cohort. The results were scrutinised, and teachers were asked to review and justify any anomalies, prior to submission to the examination boards.
•  The grades were then sent to the examination boards and checked by three people in College prior to submission.
•  In the final step, the Principal signed a declaration stating "Having reviewed the relevant processes and data, I am confident that they honestly and fairly represent the grades that these students would have been most likely to achieve if they had sat their exams as planned, and that they have not been disclosed to either the candidate or their parent/guardian."
The submitted grades have then been standardised by the examination boards as per the infographic below: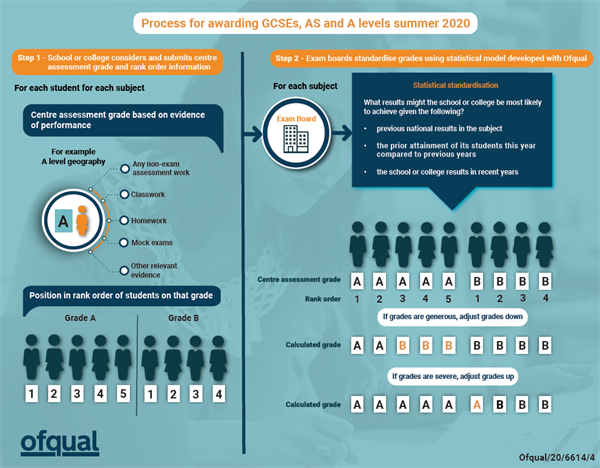 This video explains the process that has been followed by the examination boards: https://youtu.be/EX5STb0qbGI  

We are conscious that this has been a difficult and anxious time for you as a result of the disruption caused by the coronavirus pandemic. We hope the FAQ information below answers many of your queries. If you would like any further support or information, please do get in touch and we will arrange an appointment for you to see a member of staff.

  Frequently Asked Questions containing more detailed explanations and guidance for 2020 and 2021 examinations
Please read the FAQs in the above pdf document before downloading the form below.

  Form for requesting your Centre Assessed Grade(s)