Examinations
Key Dates 2021
GCE A-level results will be published on Tuesday 10th August 2021 and available for collection at 08.30 on this date.
GCSE results will be published on Thursday 12th August 2021 and available for collection at 09.00 on this date.
Refreshments will be available in The Core for you and your parents on both dates. 
Arrangements for awarding grades 2021
We appreciate you may have felt both disappointment and relief when the examinations were cancelled. Results days are always an emotional time as they represent the culmination of many years of work. This year will be no different in that regard, yet it is different in the way that the grades have been awarded.
Instead of grades being awarded as the result of a final series of national examination assessments, your teachers have worked hard to follow the guidance from Ofqual and the examination boards to submit a Teacher Assessed Grade (TAG) for you. All centres (schools) have to follow strict procedures from the Joint Council for Qualifications (JCQ) and this is set out in our Centre Policy. The examination boards provide more detail on how this is to be applied in each of the subjects and qualifications. The examination boards inspect awarding centres (schools) to ensure that they comply with the required regulations and procedures prior to submitting grades, once grades have been submitted and, if required, will review procedures in specific cases following an appeal.
Details can be found in the links at the bottom of the page and in the timeline below.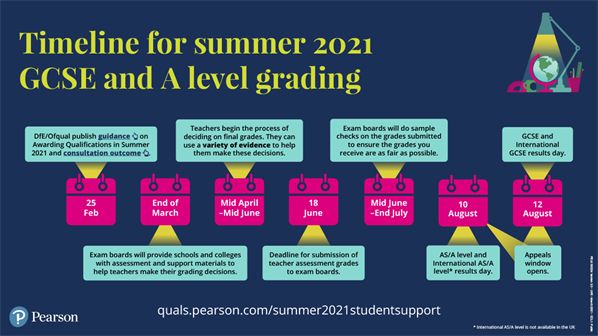 • Teachers used a range of evidence, including assessments provided from examination boards and any non-examined components, such as coursework, to produce a Teacher Assessed Grade. All teachers involved in the assessment and grading process this year have taken part in specific training and support to give confidence in the selection of appropriate evidence, marking of the evidence and reaching a holistic grading decision in line with the guidance available.
• These grades were then reviewed against historical evidence from past examinations sat at the College in 2017, 2018 and 2019 in that subject, prior to submission to the examination boards, and then by the examination boards themselves subsequently. Centres do not have to fit the historical profile however, where this is different from previous years, the reasons should be explained to the examination boards e.g. variation as a result of small cohorts or changes in teaching approaches/specifications. This acts as a check to ensure the integrity of the overall examinations nationally.
In the final step, the Principal signed a declaration confirming:
• "these grades have been checked for accuracy, reviewed by a second member of staff and are accurate and represent the professional judgements made by my staff
• entries were appropriate for each candidate in that students entered were those already studying the course, and each candidate has no more than one entry per subject
• my centre has met the requirements set out by exam boards/JCQ for internal quality assurance
• I am satisfied that each student's grade is based on an appropriately broad range of evidence, including evidence from other centres, providers or specialist teachers if relevant, and is their own work
• each student has been taught (or, in the case of private candidates, has studied) an appropriate amount of content to form the basis for a grade
• awarding organisation requirements have been met for any private candidates
• access arrangements and reasonable adjustments were provided with appropriate input from the SENCo and other specialists (and where they were not, that has been taken into account)
• I and my staff have taken note of the Ofqual guidance on making objective judgements, judgements have not been influenced by pressure from students or parents/carers, and I am confident that the judgements are fair
• all relevant student evidence and records are available for inspection, as necessary"
We are conscious that this has been a difficult and anxious time for you as a result of the disruption caused by the coronavirus pandemic. We hope the communications and live Q&A sessions that we have put in place to support you answers many of your questions. We will update this page as required. If you would like any further support or information, please do get in touch and we will arrange an appointment for you to see a member of staff.
The Ladies' College Awarding Policies

  The Ladies' College Centre Policy

  Quality Assurance Policy 
Appeals Process

  Appeals Policy

  A-level appeals letter to students

  GCSE appeals letter to students

  FAQ for parents and students on appeals

  JCQ Appeals request form
Selected communications

  Slides from the Q&A session held on 29th April

  Slides from the Q&A session held via Teams on 1st June
Links to the student and parent/carer sections from examination boards 

  AQA

  Edexcel/ Pearson

  OCR
Joint Council for Qualifications

  Summer 2021 Support
Contact email for further support

  examinations@ladiescollege.ac.gg

  hbarnes@ladiescollege.ac.gg