Celebrating 150 Years
On the 12th October 2022, The Ladies' College celebrated its 150th anniversary by launching a programme of events to include the premiere of a new play, a specially commissioned choral piece, the planting of 150 trees, and a series of social events to be enjoyed by past and present pupils and their families. In Melrose, the girls have set themselves the challenge of each completing, over the course of the year, 150 challenges in a wide range of sporting endeavours.
As one of the oldest girls' schools in existence and as part of a revolutionary movement to educate girls in the 19th century, the College continues to pioneer and evolve in the 21st century.
The College is one of Guernsey's bedrocks of education, with a proven track record of academic achievement coupled with excellent pastoral support which encourages each pupil to optimise their potential both in and out of the classroom.
It is the only single-sex girls' school in Guernsey and provides a broad, balanced and relevant education for pupils from 2 ½ to 18. The College's aims are firmly child-centred and seek to support the development of rounded, grounded, well-educated, and resilient young people, who are nurtured to take responsibility for themselves, as well as towards others.
Situated on a single-site campus, pupils of all ages can enjoy the facilities on offer, which include a large sports field, swimming pool, netball and tennis courts, gym, art and drama studio, music performance and a recording studio in addition to modern science labs, a spacious library and impressive refectory. The College is divided into four parts: Pre-Preparatory Department (Pre-School), Junior School (Reception to Year 6), Senior School (Years 7 – 11) and Sixth Form (Years 12 and 13) with the expectation that pupils are ambitious to achieve their best, supported by a dedicated team of professional adults.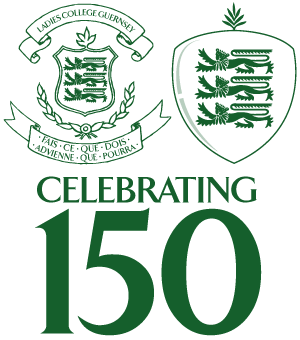 Being a pioneering school, The Ladies' College was awarded Microsoft Showcase School status in 2021, recognising the digital skills of pupils and staff, including Microsoft and Adobe training and qualifications. It is the only school in Guernsey to offer these industry standard qualifications, as part of the curriculum to all pupils.
Award-winning pastoral support is fundamental to the College. It is the only educational establishment in the Channel Islands to gain the Wellbeing Award for Schools in 2021, which recognises the outstanding pastoral and PSHCE programmes. The College has well-being at its core and employs a College Counsellor and two full-time Learning Support Specialists in addition to dedicated teachers, tutors and teaching assistants.
Tradition and innovation are both important to The Ladies' College. Leadership opportunities available to every student and a vibrant House system in which to participate are fundamental to the success of the College's mission to encourage, create and inspire each pupil to achieve their best. Pupils whose mothers and grandmothers attended the College are placed in the same house and this fosters a profound sense of tradition and pride. Competition is strong, with girls pooling their talents across the age groups to field teams for sports, music, drama, photography, and quizzes, to name just a few.
In the Sixth Form our teaching partnership allows us to offer a large range of A-level subject combinations and encourages our pupils to explore new horizons through a Sixth Form diploma and the Extended Project Qualification.
These elements and a host of others – both in and out of the classroom - combine to give our school its unique identity and ensure that The Ladies' College experience is one which will remain with our pupils throughout their journey into adult life.



The College Motto is in Guernsey's historic language of Norman French (Guernésiais) and remains at the heart of all we do today.
Our History
The Guernsey Ladies' College opened the doors to its first 12 pupils on 10th October 1872. It has an honourable place among the earliest of the establishments for the education of women which were founded as the result of the vigorous and expanding interest in social and educational matters in the mid-nineteenth century.

  View our History and Timeline of events from 1872 - 1963

Digital Archives
Work is commencing on a brand new heritage website showcasing some of the archives of The Ladies' College.  This online facility will continue to develop over the next few years with the help of donations to pay for more archived material to be digitalised. 
Sesquicentennial Events
From September 2022 to July 2023 there were a variety of different events organised in and out of College to celebrate the jubilee year.  These included a swimming gala, commemoration service, tree planting, drama productions, music concerts, a timeline of artworks produced by pupils, debates and public speaking contests plus many more calendar events.
The grand Celebration Fundraising Ball was held at Beau Séjour on Saturday 11th February 2023.
Get in touch
If you have any photos, documents, books or memorabilia from your time at The Ladies' College we would love to see them - please email us at sesqui@ladiescollege.ac.gg