The Ladies' College Guild
The Ladies' College Guild Guernsey was founded in 1905 in response to a proposal from Miss Mellish, Principal of the College, that an association of former pupils should be formed. 
The Guild has supported the College in many ways since 1905 including contributing to the cost of the changing rooms, a piano, chairs for the hall, Speech Day prizes and the purchase of the playing field(which was handed over to College ownership in 2013.  Most recently the Guild donated a large amount towards the A Gift for Learning Phase 3 fundraising project and the Guild Meeting Room is named in honour of this, as well as a classroom named after the Denbigh girls.
The Guild turned 110 years old back in June 2015 and celebrated this milestone at the College on 13th June with a wonderful afternoon tea on the front lawn welcoming back many old girls to view the progress that had been made over the past few years.
The Guild is now free for all of our College leavers to join no matter your age or when you left the College. A simple form is all that is required to be completed, available below. Since 2013, all College leavers are automatically made members of the Guild, unless they choose to opt out.  A new electronic database is being developed in conjunction with the College in order to keep in touch with alumnae in a more efficient and up-to-date manner and this will be launched in 2020.  Currently Members receive all correspondence regarding Guild news and invitations to events via email (or letter if requested)., You can keep in touch via our Facebook Group page.
The aims of the Guild
To support the interests of The Ladies' College
To foster a spirit of loyalty, involvement and commitment to the school by its alumnae
To promote mutual fellowship amongst "old girls" and links between alumni, old and new

To raise money for the support of pupils of the School to enable participation in school activities and to  enhance school facilities for the benefit of pupils.
To view a copy of the current rules agreed at the AGM, click here Guild Rules
Guild Committee 2020 /21
The committee meets regularly once a term.  If you wish to become involved and would like to join the committee please do get in touch - new members always welcome with fresh ideas for events.
| | |
| --- | --- |
| President | -   Liz Van de Velde |
| Vice President    | -   Sarah Walsh |
| Treasurer | -  vacant |
| Secretary   | -   Karlene Wright |
|   |   |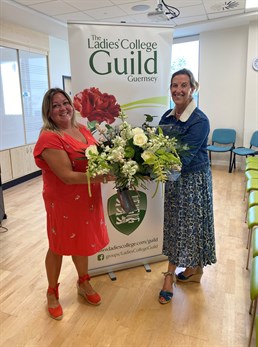 Events
We host a number of events each year in addition to the AGM.  These include a Bridge Tea, Annual Quiz and bi-annually an off-island event for alumnae living on the mainland.  If you would like to host an event or have a suggestion of something you would like to see organised, please let us know.  To register your interest in any event please email - guild@ladiescollege.ac.gg 

UPCOMING EVENTS 2021/2022 :-
Annual General Meeting
Saturday 9th October 10.30 (The Green Room & The Core)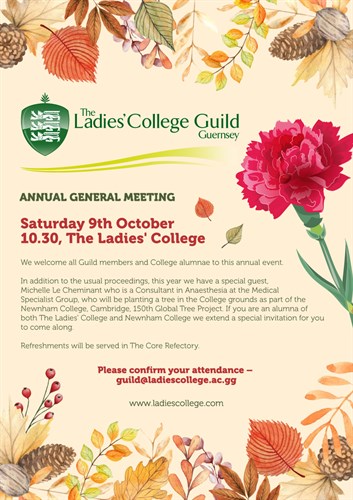 We welcome all Guild members and College alumnae to this annual event.
In addition to the usual proceedings, this year we have a special guest, alumna of both The Ladies' College and Newnham College Cambridge, Dr Michelle Le Cheminant will be planting a tree as part of both Newnham College's 150th Global Tree Project and The Ladies' College Guild celebration of the 150 years of The Ladies' College. This will take place after the AGM and everyone is most welcome to take part.
Refreshments will be served in The Core Refectory.
Email to confirm attendance - guild@ladiescollege.ac.gg
Annual Quiz - Thursday 18th November 1900 - 2100  (The Core)
Jigsaw competition - Thursday 20th January 1830 - 2030 (The Core)
CLASS REUNIONS
The Guild's purpose is to network and keep in touch with old girls of the College.  If you have a special anniversary year coming up and  would like to hold a reunion from your year group please do get in touch. 
Of particular interest, is if you are planning 5, 10, 20 or 30 year catch ups with your classmates - tell us about it.
NOT A MEMBER OF THE GUILD?
All alumnae are welcome to join our community and keep in touch at https://community.ladiescollege.com
Whether you are still based in Guernsey or have moved further afield you can keep in touch with what is going on at the College and alumnae events.
Contact the Guild
The Guild can be emailed at guild@ladiescollege.ac.gg or via our Facebook group at Ladies' College Guild 
The Ladies' College Guild Privacy Policy can be viewed here