Back
15.08.19
GCE A-Level Results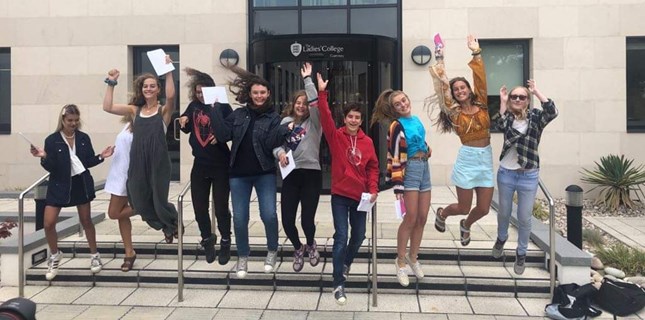 We are delighted to report that the 50 Upper Sixth Ladies' College students who took A–levels this year have done themselves, their parents, their teachers and the College proud. Once again, our students achieved a 100% pass rate. Of the grades achieved, 29.5% were A* and A, 61.1% were A* to B, and 81.9% were A* to C. 19 out of 50 girls achieved at least ABB and seven scored straight A* and A grades.  
These results are testimony to the girls' attitude to their studies, their resilience, their hard work and the support they have received from our dedicated and gifted teachers. Our students should be pleased and proud of their academic results, which sit alongside their commitment, interest and success outside of the classroom too.   
Of particular note is Ella Huxtable who achieved A*s in Biology, Chemistry, Maths and in her Extended Project Qualification (EPQ). Ella was awarded the Rothschild Bicentenary Scholar of the Year at our Speech Day in July, the most prestigious academic award in College. She readily embraces the College ethos of service and this is reflected in her role as Senior Prefect, supporting students academically and most specifically in Biology.  Musically, Ella has gained grades 8 in piano and clarinet, and in the Sixth Form she has been part of the symphonic winds Wind Band, as well as singing in College choirs. Ella has also completed her Gold Duke of Edinburgh's Award and has travelled to South Africa to take part in the Under 20 Fencing Federation Commonwealth Games and the UK National Fencing Competition.  Outside of College, Ella is a keen equestrian and competes in dressage. Ella has a place at the University of Edinburgh to read Veterinary Science.  
Amelia Bridel achieved A*s in Biology and Chemistry and an A in Psychology. In addition to this success during her time in the Sixth Form, Amelia has been in the IoD Management Shadowing and MOOT finals, has served our College community as a prefect and has also received a STEM Ambassador Award (Science, Technology, Economics and Mathematics). Amelia plans to read Law at Durham University.  
Isabella Dean achieved A* in Geography and A grades for Biology, Maths and in her Extended Project Qualification (EPQ). Isabella was also a Senior Prefect in College and it is no surprise that she will go to University of Exeter to read Marine Biology, as, amongst other things, she has been instrumental in driving our College recycling programme this year.   
Maddison Guilliard achieved A grades in Biology, Economics and Religious Studies. She has held the role of Senior Prefect, developing student voice in terms of learning and creativity and will develop this interest further in her gap year where she will complete an internship in Puerto Rico and Belgium, as well as volunteering and working, whilst applying to study PPE overseas in 2020.   
Isabelle Moorshead achieved an A* in History and As in English and Psychology. Editor of our College magazine, Ilex, Isabelle was also a key member of her Young Enterprise group, a finalist in the MOOT and has completed her Bronze Duke of Edinburgh's Award. She exhibits a terrific skillset that will stand her in good stead as she goes to the University of Bath to read Psychology.    
Danielle Parr achieved A grades in Economics, History and Maths in addition to an A in her Extended Project Qualification. She served College as Deputy Head Girl with aplomb and her Ladies' College Diploma folder is bursting with experiences, especially linked to Institute of Directors events and conferences, which reflects her desire to read Economics at Collingwood, Durham University.  
Chloe Philpott achieved an A* in History and A grades in French and Economics. With talents in writing, History and French, Chloe plans to go to Leiden University in Holland to study International Relations. Chloe has also completed her Silver Duke of Edinburgh's Award and was part of the team of three students who ran one of the four Senior School Houses that provide extended curricular and co-curricular events and opportunities for the girls each House at The Ladies' College.  
We wish all the girls, whatever their results, every success in the future, whether it is in further education, travelling or taking up employment. We seek to encourage and inspire them and to create a feeling of community, aspiration and recognition in a kind and caring environment. We hope that our Upper Sixth Leavers 2019 will stay in touch with The Ladies' College and we look forward to seeing them all at the A-level certificates presentation evening on Monday 16th December 2019. 
Back