Back
30.03.23
Student Robotics 2023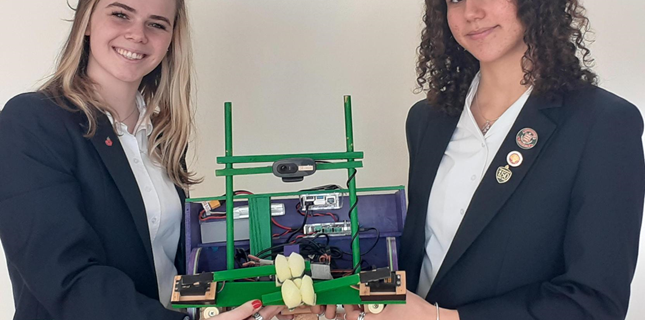 Travis the robot was built by two Sixth Form students back in 2016  to compete in the Student Robotics competition,  an international competition for Sixth form students held each year in the UK. That year they came second and won the Rookie Award for best newcomer.
This year we have been adapting Travis to compete in Student Robotics 2023 and will be taking him to Southampton University this weekend for the competition,with his 'handlers' Amy and Flo from the Lower Sixth, along with Mr Hale and Miss Ledger from the Maths department.  Just prior to Covid,  The Ladies College won this competition in 2019 and we are looking forward to another exciting weekend of competition.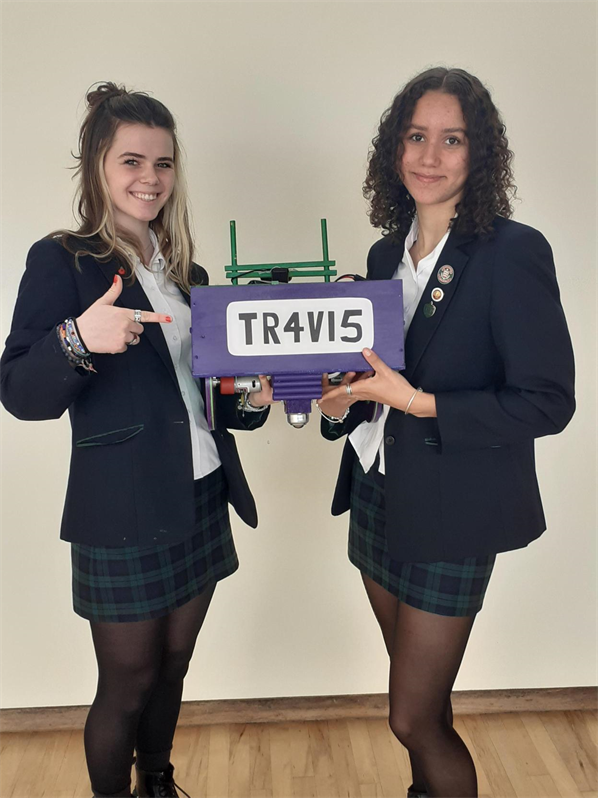 For the competition Travis has to find tokens and take them back to his home area.
The most important part of the robot is the Brainboard – which runs the Python program and uses the camera and controls the motors. The Robot has to be completely autonomous, there is no remote control. He uses his camera to find the tokens and then the wall markers to drive home.
You can follow Travis's progress next weekend as the event is streamed live on the SR 2023 YouTube channel – league matches on Saturday afternoon and the knockout rounds on Sunday.
Their progress can be followed on the Youtube channel  - www.youtube.com/@studentrobotics
Information about Student Robotics
Student Robotics is a registered charity that runs an annual robotics competition for teams of 16 to 19 year-olds. The charity aims to foster a world where engineering and artificial intelligence is accessible to young people with a stated mission "to bring the excitement of engineering and the challenge of coding to young people through robotics". The competition is free to enter and teams are provided with all of the core electronics that they need to build a robot. To encourage creative and ingenious solutions to problems, constraints on design (other than overall size) are kept to a minimum, and the students can build and fashion their robots with any materials they choose; this results in a wide range of quirky, original robots. The robots must operate autonomously; once they are switched on to compete no interference from the team is allowed.
The organisation was founded at the University of Southampton in 2006 by Robert Gilton and Stephen English. Students at the University of Bristol and Grenoble INP joined the project in 2010. In 2016 the organisation became a registered charity.
Back