Back
04.04.23
Monachan Memorial 2023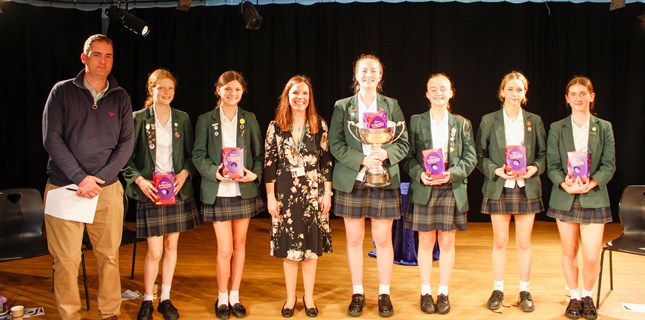 On Friday 31st March, the final of the Monachan Memorial Trophy for public speaking was held in the Drama Studio, marking the 11th year of this prestigious College competition.
There were six finalists, two from each of the classes. Anni commenced this year's final with her thoughtful and naturally delivered talk entitled "Little White Lies" outlining some interesting ideas relating to the nature of deception and duplicity. Chloe was next, posing the question "Do people look like their dogs?" This was a carefully researched talk, reinforced by psychological data, and Chloe was able to qualify the reasoning behind this statement, capturing the audience's attention very effectively with humour and originality.  Thirdly, Issy Whitford confronted the audience with relevant and carefully considered arguments regarding the restrictive quality of uniform; however, Issy was also maturely able to acknowledge the counter argument which she cleverly used to reinforce her own line of discussion. Lara delivered an effective 'meta' talk on "How to write a speech and what makes a good one?" In this cleverly self-referential talk, Lara offered a sequence of valid and constructive ideas to help deliver a polished, well-structured and captivating talk, which was mirrored in her performance itself!   Amia gave a shocking, harrowing and passionate account of female genital mutilation; her use of silence at the beginning of the talk was incredibly emotive and poignant, drawing the audience in so that they were captivated by her every word.  Finally, Sophie concluded the presentations with a passionate dialogue entitled "Feminism". In her delivery, Sophie challenged negative preconceptions surrounding feminism, speaking out strongly in the face of bias and discrimination, ultimately celebrating the power of the female voice in an uplifting final monologue.  
The standard of this year's competition was extremely high; however, after some deliberation, Anni was awarded this year's trophy. To mark the anniversary of this competition, all the finalists received chocolate eggs, including Mia, Amelie and Naomi who gave excellent talks in Thursday's whole school assembly.
The English Department was delighted to welcome to the final Mrs Massey, a former teacher of The Ladies' College who was also instrumental in launching the competition in its infancy. Thanks go to Vice Principal, Miss Bridge who presented the Trophy.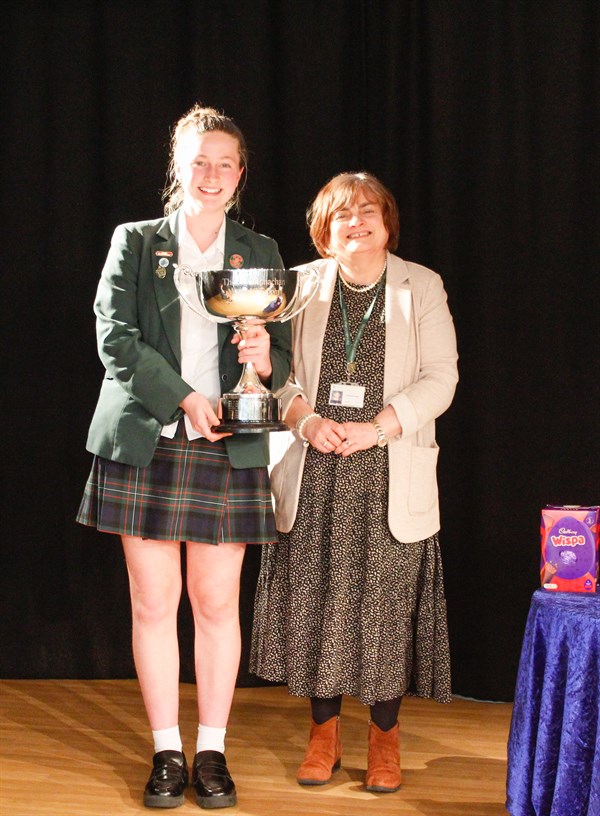 The department also welcomed back Mr King to judge the event. He commented:
"It was a pleasure to be back for the 11th anniversary of the Monachan Memorial Trophy. In this year's competition, there was a highly confident display from all the Monachan finalists.  Each public speaker was accurate, competent, credible, intelligent, knowledgeable, likable, and believable in each of their subject matters. I think it was one of the toughest years to declare a winner as all the finalists were so good. Well done to Anni, our winner of this year's competition!"
Finally, what has been so superb about this year's talks has been the students' incredible ability to leave thought-provoking sentiments reverberating in the audience's mind, long after the final word has been uttered. In the words of Lilly: "The success of your presentation will be judged not by the knowledge you send but by what the listener receives
Back