Back
29.06.22
Principal reflects on first term in office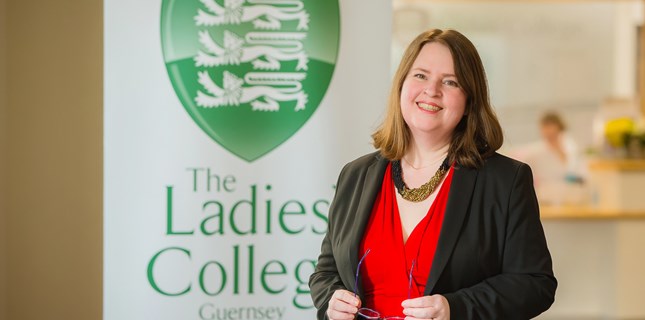 Looking back over your first full term as Principal, what were your first impressions of the school when you started?
On my first day, it was clear that this was an authentic and grounded place. I was surrounded by a smorgasboard of different individuals, but at the same time, there was a strong sense of connection and community between both teachers and students. For me, there was an immediate sense of warmth and belonging - joining The Ladies' College community made me feel a bit like getting into a warm bath!
What have been the highlights or milestones of this first term?
During my first sports day, I was struck by two things. The first was seeing children who weren't such strong runners, put all their effort into running for their house. I've often seen children avoid those kinds of moments, but the girls were fearless. I thought that said a lot about their bravery and trust in the community. The second thing I loved was the way the girls supported each other, the cheering for every single member of the community was immense!
Melrose has also been a real delight. I went to one of their assembly's recently and there was a moment when the youngest children were asked about what skills were needed to do a presentation, and the young girls answered so maturely and showed a real curiosity about the skills and traits of the older girls.
Having spent a term at the helm, how would you sum up what The Ladies' College offers to pupils?
It's offering a space for young women to find their voice and discover who they are. By being single sex, the school creates space away from gender norms so the girls don't feel constrained by who society tells them to be. You see that in the braveness, openness and confidence of the pupils.
Having come from a co-educational school, what differences have you observed in the girls at The Ladies' College?
The students I've encountered previously are amazing and I've worked with some really powerful and brilliant women, but I have experienced girls in a co-education setting reduce themselves around boys. At The Ladies' College, the girls have what I call, the 'messy hair index' - they are not performing femininity to impress boys, they are just being themselves.
The recent inspection report was glowing, how are you going to build on that going forward?
As a school, we should always reflect on our position and should always be doing better. The students are growing up and changing so fast, so we need to keep up with their needs. It's like the Red Queen in Alice in Wonderland - if you stand still, you go backwards. So, we are always questioning things like how we can use technology to teach more effectively, or how we can equip the students with all the skills that they need.
What are the biggest challenges facing girls today/down the line? And how is The Ladies' College supporting them?
Upwards of 85% of young girls report having experienced sexual harassment and that is a challenge that we, unfortunately, have to equip them for. We want to create a space where the girls can figure out how they're going to respond to a world that still treats them differently because of their gender.
I think one of the advantages of being an all girls school is we can tailor our support and education to them. For example, I've recently given a talk about women being asked to smile. I'm grateful that we can have honest conversations with students, allowing us to support them through any difficulties they may experience.
Is there a 'secret ingredient' for giving girls confidence and resilience?
People thrive when they are known, supported and when they're challenged and so I want to create a College in which every child is genuinely known. Where every child has at least one adult who totally understands and knows that child. And then I think the final secret ingredient is love. When you love and support children, as I see so many of the staff at Ladies do,  they bloom, and start to grow resilience and competence.
How do you think the school and the curriculum will evolve over the next few years?
We've now allocated significant time to digital skills and future-ready skills and we're looking at how we raise that further. I think as a College, we need to take very seriously the changes we are seeing as part of the Fourth Industrial Revolution and ensure we are thinking strategically and proactively about that. Next year, we are doing a full review to see how we can be even more effective and powerful in equipping young people.
Outside of school, how are you enjoying island life?
We love it. We moved from central Birmingham, which was a great place to live but we knew we wanted to live somewhere that was more connected to nature because my husband's a conservationist. We wanted to be part of an interconnected community and we have felt incredibly welcomed by the Guernsey community.
What are you looking forward to doing over your summer holidays?
I've made a rash decision in a moment of over confidence of getting an inter-rail pass! So we're having an interesting three and a half weeks across Europe before returning to enjoy the Guernsey summer.
Back