Back
25.08.22
GCSE results 2022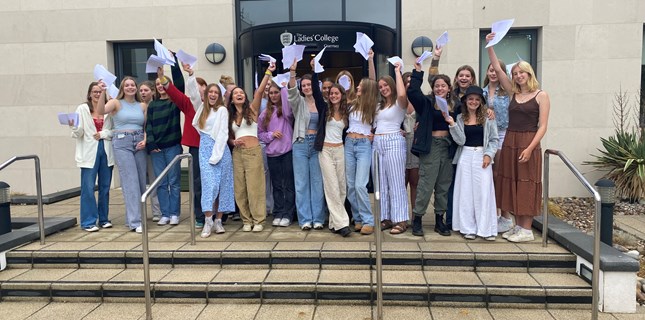 Students at The Ladies' College have achieved impressive results for this year's GCSE cohort and will now look ahead to the next stage of their education as they enter Sixth Form.
Over 63 students sat GCSE examinations in 21 subjects, this year, the first year to sit official exams since the beginning of the pandemic. The school's students achieved 74% 9-7 (A*/A) with 100% A*-C.
The College was particularly delighted with a range of departmental successes from 88% A*/A in English Literature and DT to 95% in RS and Statistics. Particularly outstanding and in line with being a Gold Award History School, 100% of the girls achieved an A*-A at History GCSE.
This year's GCSE cohort had been struck with challenges since the first wave of Covid-19, the students had to adapt quickly to online learning and responding with resilience to uncertainty about exam formats and marking requirements.
Principal at The Ladies' College, Daniele Harford-Fox, said: 'I'm incredibly proud of our girls for their achievements today. These students were just 13 years old when the first wave of Covid-19 struck, and they have had to manage their learning through immense disruption and uncertainty.
'However, our students have responded brilliantly to these challenges and have built their independence and worked collaboratively with their teachers to achieve great success.
'Whilst many of us remember our early teenage years as being light-hearted and perhaps even carefree, that has not been the case for this cohort, and the maturity they have shown has been truly impressive.'
The College has been instrumental in adapting learning methods for all students during the pandemic, with every student having access to Microsoft Teams. The Ladies' College adopted a legacy hybrid-teaching model, allowing students to attend lessons from home, while others attend the lessons in class.
Mrs Harford-Fox continued: 
'It has been a tough two years and their teachers have worked incredibly hard to help our students achieve these results. This is a great moment to thank the teachers, not just at The Ladies' College, but across the island. Everybody had to change the way they worked during lockdown, but few have had to adapt their practice so fundamentally as teachers.
'As a Microsoft Showcase School, we were lucky that we had already begun embedding technology in the way we worked, but there is no doubt that everyone had to accelerate their skills as we plunged into a totally new way of teaching and learning. And that journey would have been incredibly difficult if our students hadn't embraced the process and supported us through.
'Our students' academic results today are a testament to how well they have adapted their learning style, but we are equally proud of the immense skills of resilience, flexibility and independence they have also demonstrated, skills that will stand them in great stead for both their A-Level studies and beyond.'
Back