Back
31.03.22
Award-winning author, Lisa Thompson, visits College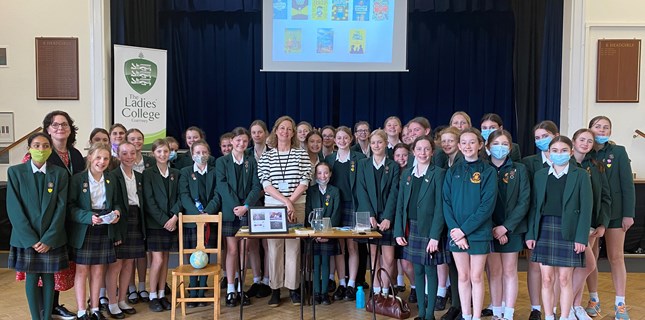 This year, Book Week ran from Monday 28 March to Friday 1 April 2022. To celebrate this event Lisa Thompson, the 2020 Winner of the Channel Island Children's Book Awards, visited The Ladies' College to talk to students in Remove and Lower Four on Wednesday 30th March to address them in the hall. Students learnt about her writing process and discussed her popular books.
Lisa worked as a Radio Broadcast Assistant first at the BBC and then for independent companies making plays and comedy programmes. 'The Goldfish Boy' was her 2017 debut novel. Her second novel, 'The Light Jar' was chosen as the Children's Book of the Week by The Times, the Guardian and the Observer on publication and 'The Day I was Erased' was the Channel Island Children's winning book of 2020.
Lisa encouraged students who would like to be writers to get started and gave advice on how to overcome basic excuses.
Afraid of trying and failing? Don't fail by not trying.
No time? Stop watching television and you will have more time.
Take your dreams seriously
Being creative is difficult.
Lisa approached planning her novels the way she would solve clues in an escape room. To demonstrate this, she turned the hall into an escape room and used props for the students to work out the puzzles. Removes and Lower Fours were remarkably good at this, they cracked the codes and found the combinations to locks within the allocated time to find the hidden key.
Lisa was then asked various questioned by the students which ranged from her favorite authors as a child and as an adult; Roal Dahl and Anne Tyler, to how she keeps track of her characters' names; she keeps a record of them by writing them in an old-fashioned address book. We had to draw the questions to a close and students (and staff) got an opportunity to get their Lisa Thompson books signed and her autograph.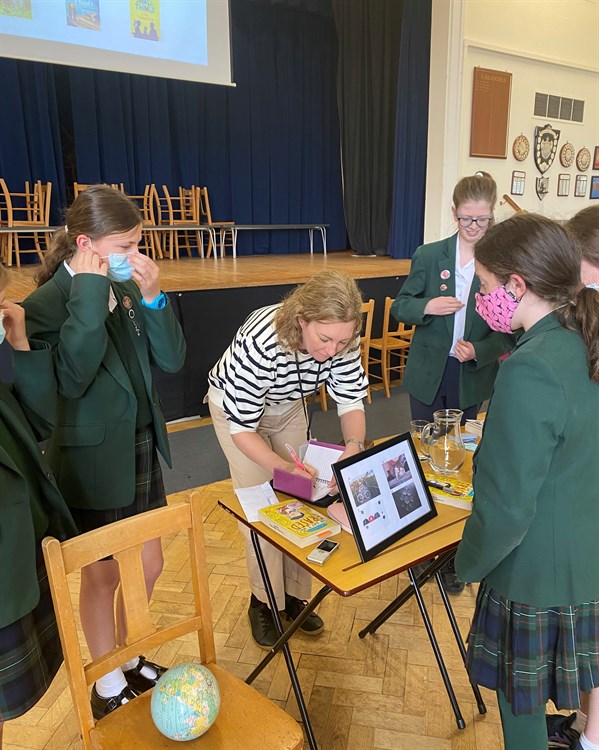 Congratulations go to Molly in Remove, who won the island wide Lisa Thompson competition to design a mystery solving character. She met the author again at the Guille- Alles Library to receive a signed copy of the author's book and a book token.
This event has been organized in collaboration with the School's Library Service, Jodie Hearn; Reading Lead - Children & Young People's Team and Victoria Thompson, The Ladies College Librarian, and the support of The Ladies College English Department and staff. The Removes and Lower Four were amazing problem solvers and asked excellent questions. Thank you for supporting this event.
All the books above are available to borrow from The Ladies College Library
To find out more about the author visit her website.
 Lisa Thompson (UK) - Author of 'The Goldfish Boy' - Official Site (lisathompsonauthor.com)
Back