Back
17.08.22
A-level results 2022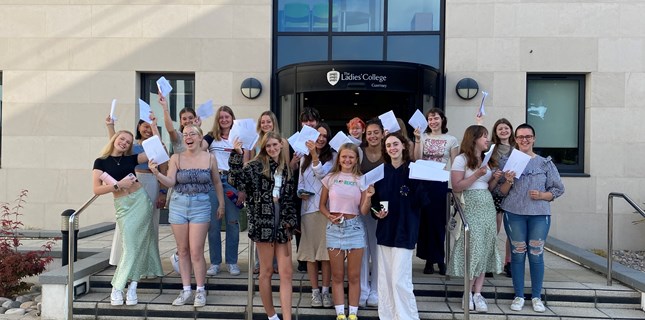 With today's A-level results, pupils from The Ladies' College will now confidently look ahead to the next stage of their personal development.
The school's pupils achieved almost 50% A*/A grades and a 100% pass rate. 
The past few years have been challenging with unprecedented changes in exams for the current cohort of students. However, the College's approach to pastoral care, praised in its recent Independent Schools Inspection, balanced with the school's academic offering, has supported pupils to achieve its aim "to be the best they can be".
Armed with their results, pupils can now confirm their plans for further education, their first step into the workplace or time to widen their experience of the world.
Principal at The Ladies' College, Daniele Harford-Fox, commented on this year's results:
'I'm immensely proud of the students and staff and delighted by this year's results. A-levels are challenging at any time, but the results our young women achieved today reflect not just academic achievement but also a testament to their ability to work through constant change and interruption, to hold strong even when it sometimes felt that the winds were all blowing against them. 
'This cohort did not have the opportunity to take their GCSE examinations; they did not get that experience of sitting in an exam hall and building those skills. Instead, they were stuck at home or working through immense disruption and illness. 
'The pupils and their teachers have spent the last two years reinventing how you teach and learn, having to be flexible and independently driven, having to work in ambiguity, never really sure how the next topic or section will be taught.'
Students at the College have secured university places to study subjects from Medicine, Law, Natural Sciences and Neuroscience to Design, Drama, Fashion and Music.
Daniele added: 'There were some wonderful stories, from the five girls who, amidst all this disruption, achieved all A* grades through to individual pupils who overcame immense personal challenges to perform brilliantly in their exams.'
Following the last few years of disruption, the College has also taken note of the changing skills landscape. As a result, The Ladies' College is keenly focused on equipping young women for the future and has further developed the curriculum with digital and future-ready skills. 
'It has been striking to see the beginnings of the post-18 environment shifting. For example, two of the College's highest achieving pupils, with a string of A*'s each to their name, have forgone university and accepted places at leading local businesses. These firms offered the girls these sought-after positions based not on their A-level results but their performance during the IoD's Leadership Shadowing initiative and our work experience week. It's great to see organisations starting to prioritise the wider skills of communication, leadership, problem-solving and flexibility, and it seems they are increasingly willing to jump the university stage to find strong candidates,' continued Daniele.  
'We are incredibly proud of all our students, not just for their exam performance but for the deep and profound skills they have built over the last few years. This is a cohort of resilient, dynamic and articulate young people, and we wish them luck and happiness as they begin their next big adventure. '
Back