Back
11.11.21
Students shine at Lower School concert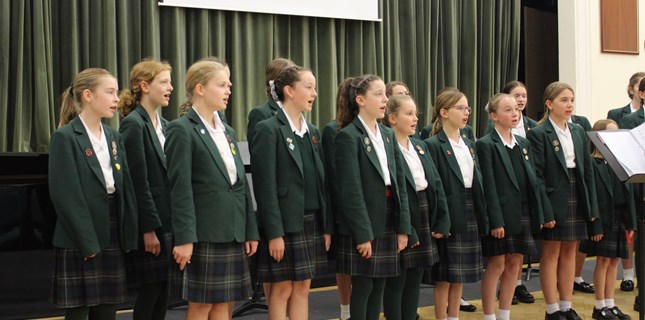 On Tuesday 9th November an evening of essentially informal yet demanding music-making took place with entertainment provided by a talented selection of Lower School students from the Senior School. Commendable soloists, vocal and instrumental groups and joyful choirs provided a varied and interesting repertoire of music.
The evening opened suitably with a rousing rendition of Susato's 'Danserye' played on flute by Sophie (Upper Four), Catherine, Clemmie (both Lower Four students) and Lara (Remove). On clarinet was Eva (Upper Four) and on saxophone Florence (Upper Four). Catherine and Clemmie then entertained us with a delightful rendition of Mozart's 'Eine Kleine Nachtmusik' for flute duet.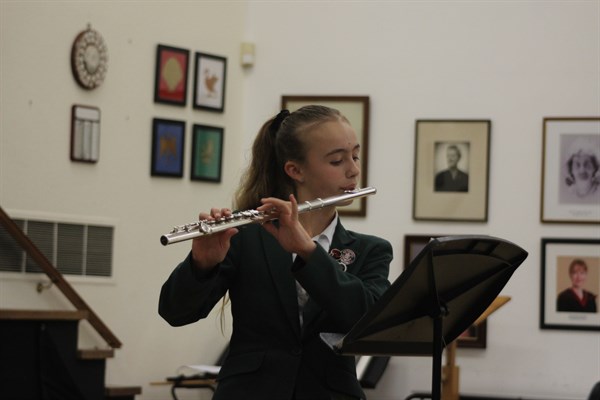 A little later, the accomplished trio of Upper Four students Eva (clarinet), Sophie (flute) and Flossie (saxophone) played an arrangement of Leonard Cohen's 'Hallelujah'. They should have been accompanied by Heather at the piano, especially as Heather was the student who skillfully arranged the piece for this combination of instruments. Sadly, Heather was unwell and Miss Le Tissier stepped, or rather sat in to provide the piano part. In any event, congratulations to Heather and the trio for their interpretation of this popular piece that was much appreciated by the audience.
Pianists abounded and absorbed the audience with pieces ranging from the classical 'Sicilienne' by Schumann, performed with expression by Aurelia (Lower Four), to the contemporary with Ed Sheeran's 'Thinking Out Loud' played with style by Charlotte (Remove).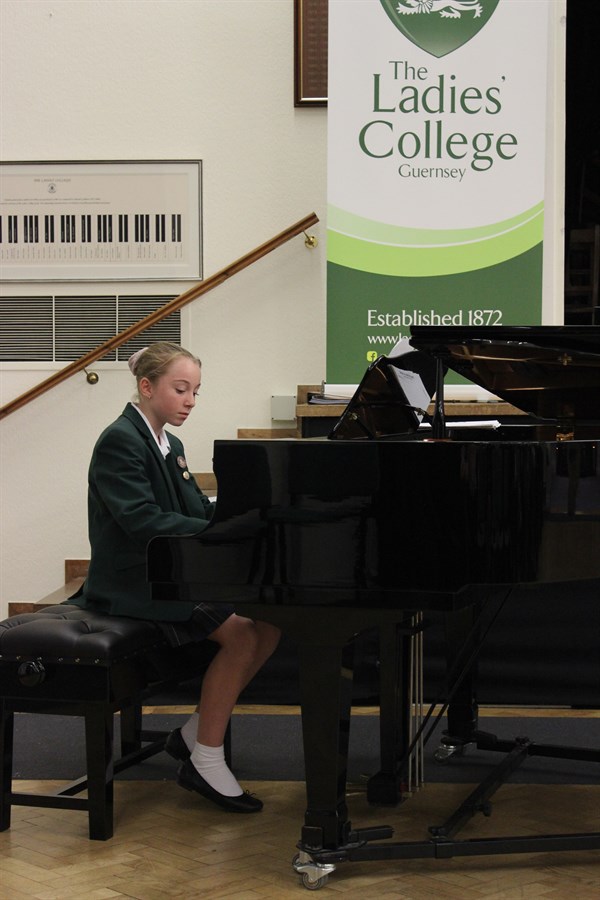 Lower Four student, Mia, delighted us with her intricate interpretation of 'Angel Fish' by Anne Crosby Gaudet whilst another Lower Four student, Annie, provided an enchanting performance of 'The Grasshopper' by Jaos. 'The River Flows in You' by Yiruma was beautifully executed by Issy (Lower Four), while Chopin's 'Valse' by Sicely (also Lower Four) was an absolute delight and reflected the high standard of playing Sicely has achieved.
Sonorous vocalists also took to the stage and the evening provided two excellent Lower Four trios in the form of Megan, Edie and Ellen as well as Stella, Lucy and Anni . The girls sang beautifully and were a credit to their respective teachers, Mrs Wright and Mr Gough.
Megan stepped forward in the daunting persona of soloist and immediately charmed the audience with her eloquent version of 'The Hills are Alive' from The Sound of Music.
Other soloists included Remove student Amelia playing the clarinet in a vivacious and perfectly balanced rendition of 'Pierrot'. Flautist Lara (Lower Four) gave a very enjoyable delivery of Keith Bartlett's 'Boogalie Woogalie' and saxophonist Florence (Upper Four) provided a lively and entertaining performance of the 'Mexican Hat Dance'. Lower Four student, Mia, on violin sparkled in her execution of the Allegro Moderato from Rieding's Concerto in B minor whilst Matilda (Upper Four), a fellow violinist, demonstrated a notably high level of playing in her sensitive interpretation of Bach's 'Giga' - an unaccompanied work that demands an acute understanding of the technical aspects of the instrument and the piece. Both aspects Matilda handled commendably.
Another highlight of the evening was the hugely enjoyable rendition of 'Three Little Maids' from The Mikado by sisters – Beattie, Flossie and Clemmie. The girls sang beautifully and their performance was enthusiastically humorous and entertaining.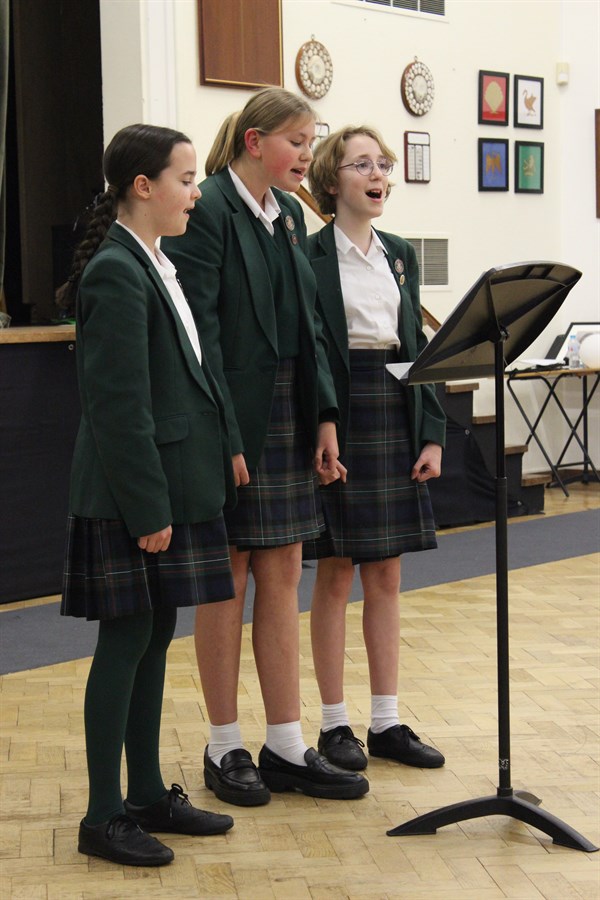 The full and varied programme concluded with Junior Choir singing 'Lord of the Living Harvest', which they had earnestly prepared for the Harvest service, prior to half term, and Junior Motet singing 'Cantate!', which they studied and performed for Commemoration Service. The girls sang in 2-part harmony and gave a perfect ending to an extremely rewarding evening of music-making.
Back