Back
27.01.20
Music at The Ladies' College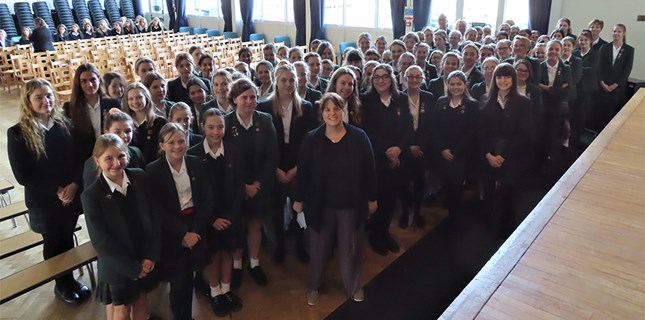 This is a busy department with many of our students performing both in College and non-College events on the island over the next few months.
On Friday 24th and Saturday 25th January the Guernsey Music Centre held their annual winter concerts at St. James. Many of our students were involved in the choirs, orchestras and wind bands performing on both evenings.
On Monday 27th January our Senior Motet Choir is performing as part of the Holocaust Memorial Day at the Town Church.
Also on this day our Sixth Form musicians have been invited to perform Vivaldi's Gloria directed by Mrs Grand. These performances are a 'turn up and play/sing' and is fantastic for sight-reading.
On Saturday 1st February students of Alan Gough will perform at St. Stephens Church.
Later on in February on Saturday 8th, Guernsey Bach Choir and Orchestra perform at St. Stephens church. Mrs Roue, our Director of Music will be playing violin, along with some of our Sixth Form students.
Also on Saturday 8th February is the 5th annual Battle of the Bands competition, arranged by Thirst Music School at Beau Sejour.  Our band this year is called Affinity and we know that they will have a good group of supporters to watch them on the night to see if we can repeat last year's success in winning the competition.
From Thursday 27th February – Saturday 7th March we begin the busy Music section of the Eisteddfod. Many of our students will  be performing in groups from outside of College. Our senior choir, senior motet, junior choir, junior motet, senior strings, saxophone group and the Combined College Cantorum are all performing.
Save the date – Tuesday 10th March will be the Senior School Spring Concert at 7pm in the College Hall.
Back