Back
08.01.20
Commemorative Artwork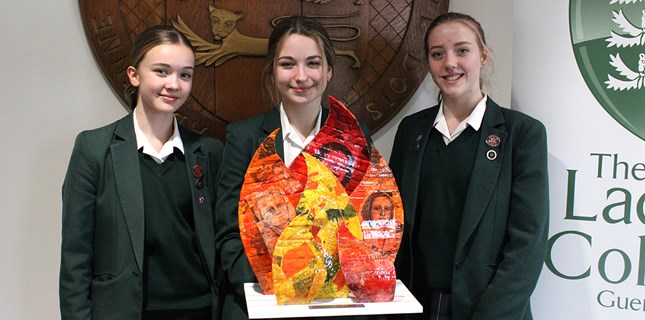 Commemorative artwork by The Ladies' College selected for national exhibition marking 75th anniversary of Auschwitz liberation
Memorial Flame chosen by judges to feature at official Holocaust Memorial Day ceremony
A memorial flame created by a group of three Lower Five students and three teachers from The Ladies' College has been selected by a distinguished panel of judges to feature as part of a national art exhibition to commemorate the 75th anniversary of the liberation of Auschwitz-Birkenau.
The artwork is one of 75 memorial flames chosen to represent each year since the liberation of Auschwitz. These will be displayed at an exhibition, which is set to be unveiled at the UK Ceremony for Holocaust Memorial Day in London on 27 January 2020. Numerous VIPs are expected to be in attendance as well as Mrs Montague from the History department who will represent The Ladies' College; the event will be televised by the BBC on the day.
The College piece, a collaborative project between the History and Art Departments, is entitled 'Renbillaons jomais' meaning 'Never forget' in Guernsey French. It commemorates particularly the three women taken from our Island and murdered as victims of the Holocaust.
Student Rosie said, "We looked at pictures, documents and historians' accounts to find out more about the lives of Therese Steiner, Auguste Spitz and Marianne Grunfeld who were deported from Guernsey in 1942. Our artwork shows that we will never forget their names or faces or the wrong done to them."
Rebecca  added, "We wanted to also give our flame a title of local significance, knowing it might be exhibited in London to a wider audience. Deputy Jonathan Le Tocq gave our group some valuable advice about Guernsey French phrases and we chose one that had a powerful meaning. It was significant also to work as a group of three girls today remembering these three women from the recent past."
Lily said, "We are proud that our artwork will stand together with others from across Britain and that the story of women who were living on our Island will be remembered."
More than 300 groups from across the country registered to take part in the nationwide competition launched by the Holocaust Memorial Day Trust (HMDT) to encourage more people to remember the six million Jews murdered during the Holocaust.
The panellists judging the competition were: Sarah Donaldson, arts editor at the Observer; Nick Sharratt, renowned illustrator and author; Kathleen Soriano, Chair of the Liverpool Biennial, and judge on SkyArts Artist of the Year; Anita Peleg, HMDT Trustee and daughter of Naomi Blake, a sculptor and Holocaust survivor; and Olivia Marks-Woldman, Chief Executive of the Holocaust Memorial Day Trust.
Speaking about the theme for HMD commemorations in 2020, 'Stand Together', history teacher and project leader at The Ladies' College, Mrs Montague said, "I'm so proud of the efforts of the girls to commemorate the Jewish victims of the Nazi genocide from Guernsey, and to produce such a moving piece of art. We will continue to study the history of the Holocaust and the stories of these three women at The Ladies' College to make sure generations to come 'never forget'. We're very grateful for the privilege of highlighting their story in a national exhibition." Art teacher Miss Alston said, "This project has provided an exciting opportunity for collaboration between teachers and students, across subjects and time; it is a perfect example of how art can help bring history to life."
Sarah Donaldson, arts editor for the Observer, said: "The 75 Memorial Flames project is a brilliant project that shows how effective art can be in bringing together people from all walks of life to engage on a particular issue. We've seen entries from school children, youth groups, prison inmates, interfaith groups, craft groups, and others, and the quality and diversity of the responses has been really impressive."
Author and Illustrator, Nick Sharratt, said: "It's more important than ever not to forget the history of the Holocaust, and this exhibition is a fantastic opportunity to ensure that. I have been very excited to see how many different interpretations of the brief there are, with each group using the central flame idea and making it their own. The number of different artistic techniques used has been very impressive and I can't wait to see all the 75 Memorial Flames come together at the UK Ceremony for Holocaust Memorial Day."
Kathleen Soriano, SkyArts Artist of the Year judge said: "What really makes the artworks produced for the 75 Memorial Flames project special, are the remarkable stories of those affected by the Holocaust, which are told through the art itself. Each piece explores something different, from specific individuals who were imprisoned in concentration camps, to people who helped others escape and the theme of Stand Together. To me, the theme of Stand Together means remembering together and that's what this project is helping to achieve."
Chief Executive of the Holocaust Memorial Day Trust, Olivia Marks-Woldman, said: "It is hugely encouraging to have received so many submissions to this project and from so many different types of groups. The project has truly been nationwide and at a time when we know identity-based hostility is increasing, it is heartening to see so many groups and communities come together and pay tribute to victims of the Holocaust in this way. Holocaust Memorial Day is an important opportunity for us all to learn from genocide, for a better future, and I'd urge everyone to get involved in activities for Holocaust Memorial Day 2020 by visiting hmd.org.uk."
The '75 Memorial Flames' competition was launched with the creation of a sculpture by artist and survivor of the Holocaust, Maurice Blik, who was liberated from Bergen-Belsen concentration camp as a child. The project is part of a wider programme of events devised by the Holocaust Memorial Day Trust to enable people to take part in Holocaust Memorial Day (HMD) and learn from the horrors of genocide.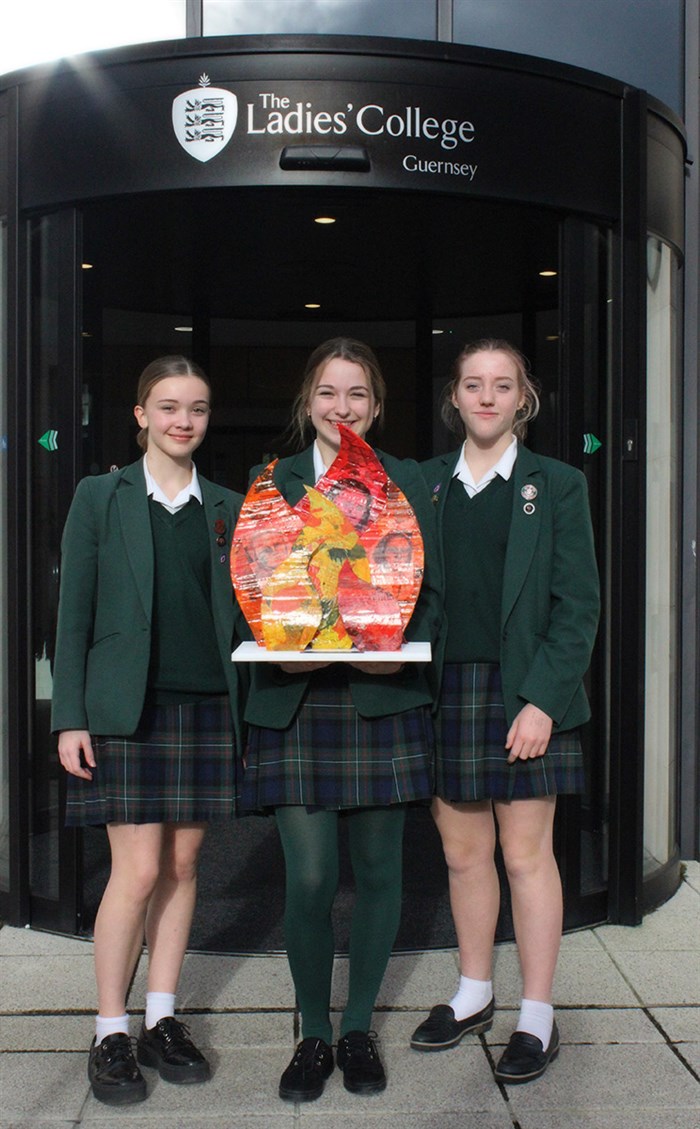 Back