Back
19.06.19
Battle of the Bands winners prize buys new drum kit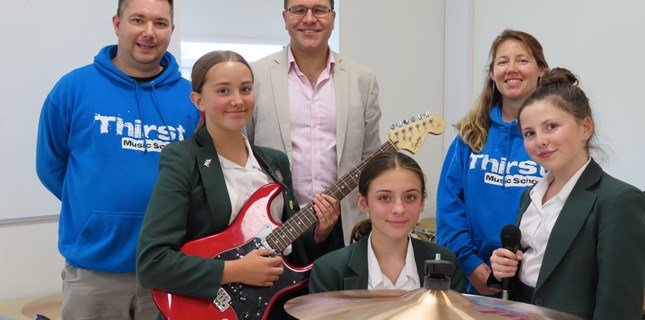 February 2019 was the 4th annual competition of the Battle of the Bands, run by Thirst School of Music and held at Beau Sejour.
Previous winners include Elizabeth College, Les Beaucamps and St.Sampsons High Schools. The Ladies' College enter each year and we a delighted that the band 'Afterlife' were this year's winners. As a result, the band members, (five students from years 8 & 9) received £1000 with the music department receiving a further £500. Part of this is subsidised by Create architects who were this year's sponsors.
Each September the girls are offered the opportunity receive band mentoring whether they are currently in a band or want to form a new group. These rehearsals help likeminded musicians prepare for performances, competitions and forge new friendships.  In the newly built music faculty we have developed a band station/performance space and used the money from the competition to purchase a new drum kit. This will be an instrument that will be accessable to all students in our music department here at the College.
Thank you to Thirst and Create for giving our girls the opportunity to use their musical talents.
Back