Back
13.01.17
Upper Sixth English Visit : Aphra Behn's 'The Rover'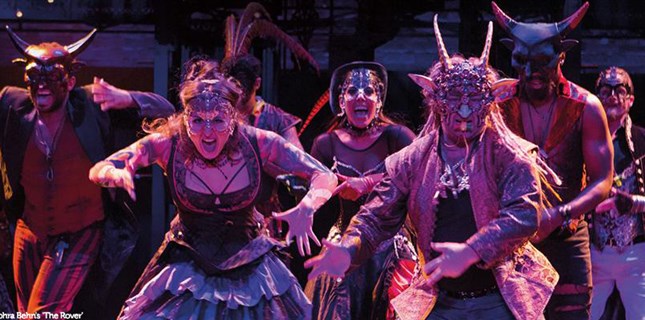 Produced at The Swan Theatre by The Royal Shakespeare Company.
Upper Sixth English students from The Ladies College attended a first class production of 'The Rover' with a pupil workshop in January this year with Mrs King and Mr Swann in attendance.
'Masquerading! A lewd custom to debauch our youth.'
This stylish and fast paced Restoration Comedy is set in the Kingdom of Naples during Carnival in the 1650s and the director, Loveday Ingram, made great use of the opportunities for both music and dance in this performance.
This was a high energy production with full use being made of the stage and audience. At one point the protagonist Willmore, a 'rampant lion of the forest', played expertly by Joseph Millson, swung in through the auditorium from a rope and, in another scene of high farce, the comic 'Essex calf' Blunt ( Leander Deeny ) drops squarely through the trapdoor after being robbed and gulled by Lucetta and her nefarious beau. These scenes, and especially those in which the actors broke through the 'fourth wall,' provided great entertainment and engaged the audience fully without detracting for a moment from the complexities of the witty dialogue which characterises the original text. 
The costumes were colourful and varied whilst aiming at a consistent theme of vagabondage and the masks were also used to great effect. The symbolism was of note too, with Moretta (Alison Mckenzie) wearing a bowler hat and wielding a cane to underscore her power and Florinda's sparkling off- white gown reflecting her purity and impending nuptials. 
Various themes of the play were amply illustrated by the foregrounding of key scenes such as the seduction and abandonment of Angellica Bianca by Willmore and the attempted rape of Florinda (Francis McNamee). The dark themes of sexual politics and patriarchal order were skilfully offset by the highly comic scenes involving both the English cavaliers and Helena's group of sisters and servants and their clever exploits dressed as gypsies.  
The tailored workshop also supported the experience, giving the pupils the opportunity to question the interpretation of character and their relationships and engaging them directly, making the entire experience as memorable as possible. 
A funny, sophisticated and lively production of a demanding play. 
Well done RSC! 
Back