Back
02.12.13
Curls for Cash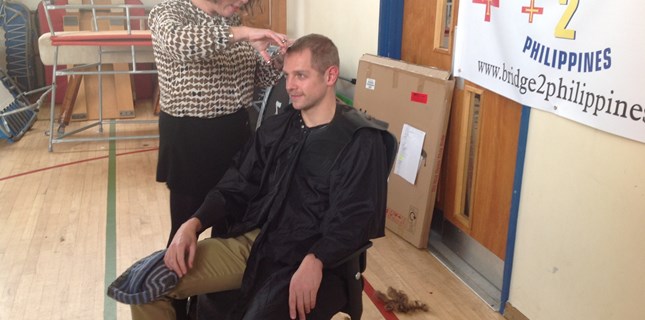 Maths teacher Mr Druckes has raised £1,000 for the Philippines disaster fund by agreeing to shave his head - if the College could raise enough cash.
Girls and staff were asked to vote by donating money to either the 'Save' or 'Shave' campaign. The winning side was announced in front of a packed audience on Friday November 29th.
Sarah Griffiths of Bridge2Philippines attended and explained how the money raised would go to emergency aid or 'shelter boxes' for those affected by the disaster.
Hairdresser Maxine was poised with the shears but Mr Druckes was still hanging on to hope - and those golden curls. 'I don't believe they will have voted for me to do it,' he said through gritted teeth. But when the cash was counted up and the 'Shave' vote clinched victory Mr Druckes walked bravely to the chair and kissed the curls goodbye.
In a few moments a newly shorn Mr Druckes was mourning the loss of his hair - but celebrating a huge success for his chosen charity.
Our thanks go to all who helped organise the event and, of course, to the hero of the hour Mr Druckes.
Back