Prospective Sixth Form Applicants
Most of our Upper Five students choose to remain with us at Sixth Form however, we also receive applications from students currently studying at other schools in Guernsey, the UK and further afield.
Sophie James joined us in 2014 from The Grammar School and has recently written an article in the college magazine, Ilex about her experience of starting The Ladies' College as a Sixth Form student.
Moving to College
Prior to moving to The Ladies' College I was aware of the high standard of work through both of my sisters and some close friends attending the school, as well as reading about many of the school's achievements in 'The Guernsey Press', such as the student's involvement in numerous charities.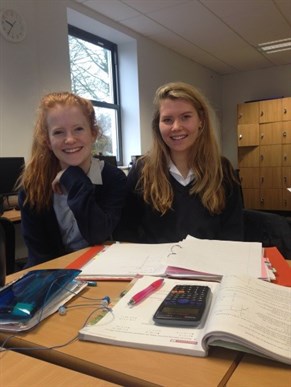 Both this impressive reputation and my need for a change fuelled my move to The Ladies' College where I have developed my academic skills, self-confidence and passion for my subjects, particularly Psychology. At first, like many before me, I found moving schools challenging and it took a while before I was comfortably settled, with good friendships, and used to a new arrangement. By moving schools I feel I have experienced a small part of the changes which University brings, and I am looking forward to the huge challenge of going to University, meeting new people and getting used to a totally new environment. My older sister, Eva, encouraged me to make the most of my two years at The Ladies' College like she did, as her role as co-editor of 'The Ilex' and her participation in French/Spanish trips have helped her significantly.
Despite only being here for just over a year, I have good relationships with people I hope to stay in contact with, and I am now much better equipped for University- my experience at this school has helped to prepare me for the future.
"One thing you cannot read about in the press before moving to The Ladies' College (or truly understand if someone tells you) is the school spirit, the importance of the song 'He who would valiant be/To be a Pilgrim', the need for cake to be taken very seriously, and the truth to the school's motto Fais Ce Que Dois, Advienne Que Pourra, 'Do your duty, come what may'."
Sophie James
Upper Sixth

 Back to Sixth Form