Bring your own Device (BYOD)
The College has installed a campus wide wireless network that enables students to bring in their own devices into school. These devices can be of any type, Apple, Windows or Android and these can be used in lessons, for homework and project work whenever appropriate. This web site is designed to help you get you devices connected to the College wireless system, help you access and save your work and suggest apps that you will find useful to have on your device.
If you do use your device in College you must make sure that the files it contains do not contravene the College Acceptable Use policy and that files that you need for your subjects are backed up.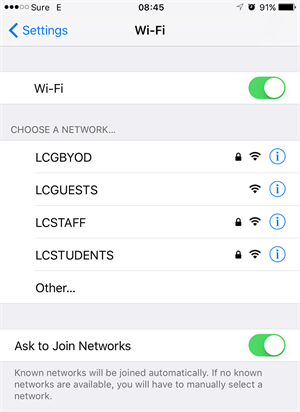 To connect your iPad or mobile device to the College Wireless system you will need to use the LCGBYOD wireless ID. If you are asked to "Verify the Server Identity" just tap Continue. If your device requires further https certificates then please click here to install an https inspection certificate.
To connect to LCGBYOD enter your College computer network username and password. Tap Login and you will now be able to access the internet in College. You cannot, however, access your College "My Documents" folder. To access files that you have created on the network, these will need to uploaded to the internet using Onedrive (part of your Office 365) or the College Sharepoint.

  FAQ

  Connection instructions for Mobile Devices

  IT Resources and Apps

  Using OneDrive on Mobile Devices

  ICT Policy (includes Acceptable Use Policy)

  BYOD (Bring your own Device) Policy