Back
20.01.18
PTA Oddsocks Drama Workshop
The Ladies' College PTA are again very excited to be able to offer a unique workshop with the brilliant theatre company, Oddsocks, during their tour in Guernsey next week.
We have been successful in arranging a two-hour workshop with some of the cast to give the students an opportunity to explore performance techniques and participate in games and drama exercises. For anyone who has seen Oddsocks performances, you will know that it will be a fun and unique experience for the students.
The workshop is to be held in the Drama Studio at The Ladies' College on Saturday 20th January from 12.45 - 15.00.
The cost of the workshop is £30 per child (includes refreshments) and is open to students and siblings, (boys and girls), between year groups Remove to Upper Four inclusive, and Drama GCSE students who would like to participate. Numbers are limited to 50 so places will be on a first come, first served basis.
Please contact the PTA on info@theladiescollegepta.org.gg as soon as possible to book places, leaving your name, number of places required, student's name and a contact telephone number. All bookings to be made through this forum for ease of administration. You will receive a confirmation email that your booking has been accepted. Please then make payment as soon as possible.
Cheques to be made payable The Ladies' College PTA, to be submitted to school in an envelope marked "Oddsocks – PTA"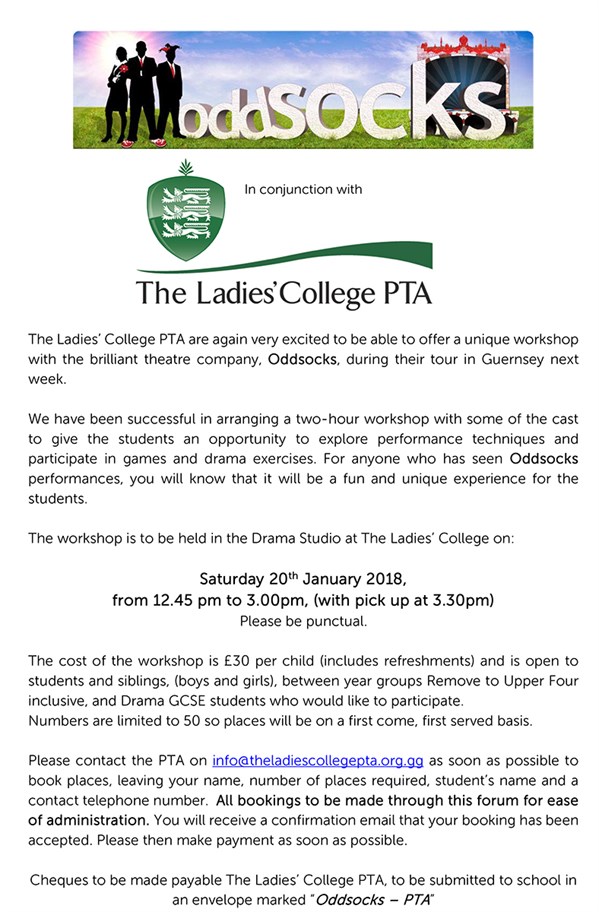 Back