Meet our Teachers
"Tell me and I forget. Teach me and I remember. Involve me and I learn." Benjamin Franklin
At The Ladies' College Pre-Preparatory Department we pride ourselves in having a highly motivated and committed team of staff who provide an atmosphere of mutual trust and respect. We are passionate about providing each child in our care opportunities and experiences to stimulate their love of exploration and confidence to tackle new challenges throughout their life.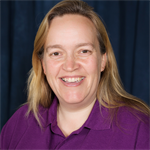 Mrs Liz Reynolds
Head of Pre-Preparatory 
and Wraparound Care
BA Hons, Brighton
Mrs Liz Reynolds joined The Ladies' College in 2007. She is a qualified Nursery Nurse with 27 years childcare experience and has since gained a BA (Hons) in Professional Studies in Learning and Development. Liz is also a qualified ASA swimming teacher/coach and is also a trained RLSS life saver and Child and Adult First Aider. Liz leads a highly dedicated team in our Early Years Department, whilst also having overall responsibility for the Pre-Preparatory children.

Mrs Vikki Loveridge
Pre-Preparatory Deputy Leader
Advance Practice in working with children and familes - Level 5

Having always had a passion for Early Years Education Vikki initially completed her level 3 Diploma in Child Care and Education in 2006 and shortly after this undertook her level 5 certificate in Advanced Practice in working with children and their families.
Vikki's creativity and passion for arts and crafts are very evident throughout the Pre- prep along with her desire for nature and the outdoor environment. Coming from a medical family first aid is important to Vikki who as a child attended both badgers and St John Ambulance Cadets.
Pre-Preparatory Department Practitioners: Mrs Julie Trustum, Mrs Melany Way, Mrs Nora Le Tissier, Mrs Sinead Le Noury
Wraparound Care Practitioner: Mrs Anne-Marie Scheffer, BTEC Level 5 Advanced Practice in work with Children and Families

  Back to Pre-Preparatory Department