All of the girls gave superb and engaging presentations to the panel of judges and audience. Louise and Maisy were given special commendations on their presentations.   Lydia came a very close second place and awarded a distinction, and this is how she described her experience.
"This year, I completed a placement shadowing Nichole Culverwell, Director of Black Vanilla, as part of the IoD leadership shadowing programme. Over the two days I saw internal and external meetings, online conference calls, and Nichole's general daily work life. This was a very valuable experience which gave me an insight into what a manager does and the workings behind a company. I learnt what qualities are necessary to be a good leader, such as self-belief and adaptability. Once all participants had completed their placement, we each had to present our learnings of what a good leader looks like. This was a great opportunity to practise public speaking and presentation skills."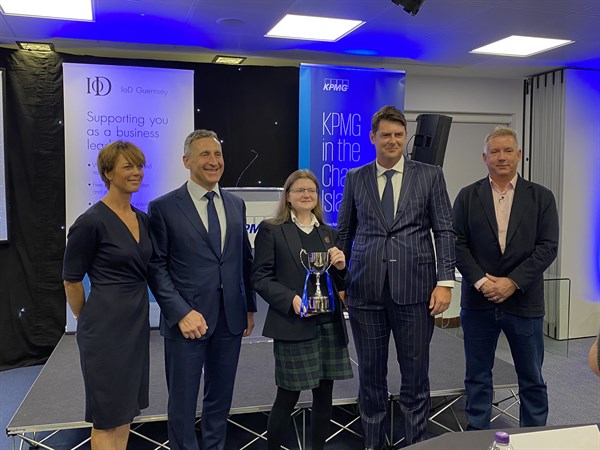 Lena, who took the overall top prize, winning this year's 2021 Leadership Shadowing award had this to say, 
"Leadership Shadowing was definitely a very rewarding experience for me. Before the program, I had a rather limited view of a leader as a bit of a distant, authoritarian figure, which turned out to be completely wrong! My experience has made me a lot more knowledgeable and confident for when I go into the workplace, and I also found it a great opportunity to develop my public speaking skills. Of course, it was quite daunting to deliver a presentation in front of so many people, but I felt a real sense of achievement afterwards, and it was worth it for the atmosphere of the night, and to get a chance to listen to everyone else's presentations. I'm really happy I won, but it was very close and everyone from all the schools, but especially from Ladies', did amazing. I'd highly recommend this opportunity for anyone considering it!"
All the students who took part in both the final and the initial stages of selection showed dedication, respect, and enthusiasm, and we are all so very proud of them all.