Back
29.04.21
Public Speaking competition students excel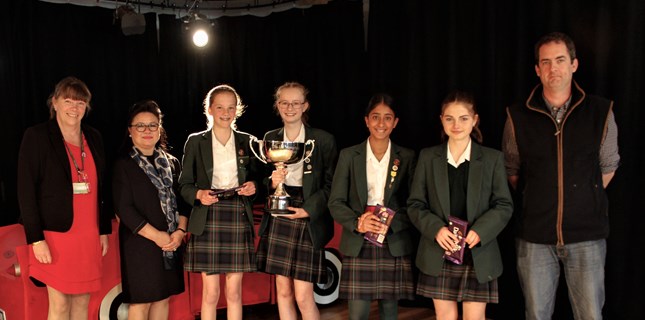 On Tuesday 27th April, the final of the Monachan Memorial Trophy for public speaking was held in the Drama Studio.
There were four finalists, one from each of the classes in Upper Four. Lucy Clarke commenced this year's final with her insightful talk entitled "Seven Hours and Twenty-two Minutes" outlining some surprising details illustrating our reliance on, and on some occasions addiction to, our mobile phones. Emma Holt was next, delivering her dialogue on the "Presentation of Weight and Body Image." This was a carefully researched talk, and Emma was able to identify, clearly and cogently, the issues with a cultural preoccupation regarding physical image. Thirdly, Molly Robinson confronted the audience with some shocking details linked to animal testing and cosmetics; however, Molly was also maturely able to acknowledge when humane testing may be necessary, in order to save lives. Finally, Uma Sharma concluded the presentations with a challenging and though-provoking talk entitled "Selfies". In her delivery, Uma outlined societal pressures which may drive individuals to take extreme and horrifying measures in the pursuit of the perfect picture.
The standard of this year's competition was extremely high; however, after some deliberation, Emma was awarded this year's trophy and prize.
The English Department was delighted to welcome to the final Mrs Noi Monachan, our very kind sponsor of this annual competition, and Mrs Jane Massey, a former teacher and passionate advocate for the importance of public speaking.
The department also welcomed Mr Dave King to judge the event. He commented:
"What a joy to see and personally judge the Monachan Competition. Four very talented finalists came to the "podium" each of them delivering, in their own unique way, their individual and excellently well-prepared speeches. I definitely witnessed lots of essential qualities out of many that I was particularly looking for in their chosen subject matters. Confidence, passion, introspection and self awareness, believability in their subjects, and finally engagement with their audience. Each presentation was noticeably bolstered, inspiring, clear and articulate, meaningful, thought provoking, influential and most importantly, made a consequential impact on myself and the audience.
Well done to all finalists and congratulations again to Emma Holt."
Mrs Ellis, Head of the English Department summed up the event, "I think our students aptly and poignantly embodied the words of John Ford: 'You can speak well if your tongue can deliver the message of your heart.'"
Back