Back
16.08.18
A-level Results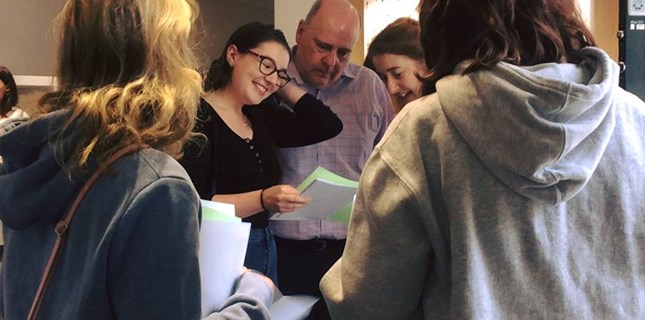 We are delighted to report that students of The Ladies' College who took A–levels in 2018 have had another successful year. The 100% pass rate was achieved by 46 students who took the linear A-levels and who now have choices about following their immediate goals of work, university or a gap year. Of the grades achieved, 35.3% were A* and A, 69.2% were A* to B, and 88.0% were A* to C.
We want to congratulate all our Upper Sixth students on their results which are testimony to their attitude to their studies, their resilience, their hard work and the support they have from our dedicated and gifted teachers. Our students should be pleased and proud of their academic results which sit alongside their commitment, interest and success outside of the classroom too. 19 out of 46 girls achieved at least ABB and six scored straight A* and A grades.
Bella Ogier was awarded the Rothchild Bicentenary Scholar of the Year at our Speech Day in July, the most prestigious academic award in College. At A-level she achieved 4 A*s in Chemistry, Mathematics, Further Mathematics and Physics. She readily embraces the College ethos of service and this is reflected in her role as Senior Prefect for the student Peer Support team, organising and managing the College's Badminton team and helping to coach Junior Netball, a sport she plays herself to a high standard, having represented the island at all age levels. Bella plans to study Natural Sciences at Durham.
Vicky Mann is a true all-rounder whose results are in French, Mathematics and Further Mathematics. She is a talented athlete who competed in 2017 at the Gotland Island Games and has also represented Guernsey in Hockey. In 2014, she was selected to participate in the Brooks Macdonald High Performers' Programme and she has shared her enthusiasm and commitment with her peers and younger students, as Team Manager for her House. She is also completing her Gold Duke of Edinburgh's Award. Vicky plans to study Mathematics at Loughborough.
Amy Sharpe was our fabulous Head Girl last year and achieved A* and As in Geography, Biology and Chemistry. She is also a talented Guernsey Hockey player and clearly manages to balance the challenges and opportunities of academic life and a successful extra-curricular programme at the same time. She is working towards the Gold Duke of Edinburgh's Award and was a finalist in the KPMG Management Shadowing programme earlier this year. Amy plans to study Biological Sciences at Durham.
Rebecca Toll's A-level results are in Biology, Mathematics, Further Mathematics and Psychology and she also achieved a Distinction for her EPQ which used her skills across all of her A-levels, to research the impact of exercise on Dementia. Rebecca also competed in athletics at the Island Games in Gotland, gained a distinction in the IOD Management Shadowing Scheme, is a talented drummer and is completing her Gold Duke of Edinburgh's Award. She has also been a House Official and supports and encourages younger students to be active in co-curricular opportunities at College. Rebecca plans to study Psychology at Bath University.
Eleanor Wallis is a very capable linguist and her results were achieved in French, German and History. Her roles as Form Captain and House Secretary which support others, are complimented by her talent to engage an audience as seen at the Collas Crill Moot, the Drama Speaks and the One Act Play Festival and her blog at the IOD conference which won the Directors of the Future Award. Eleanor plans to study French and German at Bristol in September.
Eve Wilkes' A-level results are in Biology, Chemistry and Mathematics and she joins her peers with her valuable contribution of service to others in College and a rich and varied co-curricular schedule. She runs the lower school Maths Club, is a House Official, a member of the Senior Choir, the Motet Choirs and she is also a very talented dancer. Eve plans to study Biochemistry at UCL.
We warmly congratulate all of our Upper Sixth / A-level students for their achievements academically and their sense of responsibility and service towards others and their personal interests and achievements. We wish them every success for the future and we hope that they will stay in touch with The Ladies' College. A-level certificates will be presented on Monday 17th December 2018 in College and our 2018 Leavers are warmly invited to our Ladies' College Networking Evening on Thursday 6th September 2018.
Back