A conference hosted at The Ladies' College about 21st century learning featuring guest speaker, Professor Guy Claxton, a global educator and originator of Building Learning Power, followed by an afternoon of inspirational workshops.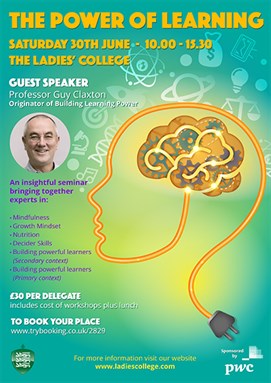 Lunch and refreshments will be provided.
This event is open to everyone, including post-16 students, within Guernsey.
W1 Introduction to Growth Mindset - Rachel Sykes

'Mindset' is an area of psychology researched in depth by Professor Carol Dweck, a psychologist, who has found evidence that people's beliefs about ability affect their behaviours, performance and whether they achieve their potential. 

The workshop will help attendees to understand what the Mindsets are and how to recognise them in themselves and others. 

They will also be shown ways to foster a Growth Mindset in themselves, and in the young people they work, or live with, in order to help them realise their full potential.  
W2 The role of Mindfulness in Education - Chris Robilliard

Who is mindfulness for, and what's the point?

Mindfulness is all about learning to direct our attention to our experience as it unfolds, moment by moment, with open-minded curiosity, kindness and acceptance. Rather than worrying about what has happened or might happen, it trains us to explore and respond skilfully to whatever is happening right now.

The growing body of research indicates that mindfulness training has an effect on the health and well-being of those that participate. Individuals of all ages report that they think more clearly, are less anxious and depressed and generally perform better. 
W3 The importance of Sleep - Dr Piers Mitchell
https://guernseypress.com/news/2017/10/19/online-video-promotes-the-importance-of-a-good-sleep/
Sleep is an absolutely critical function for the body – and we ignore it at our peril. When we're asleep, our bodies are actually very, very busy getting us ready for the next day. Although we might not think shut eye helps us with our sport or at the gym, experts say it actually plays a huge part in our physical maintenance and development. One of the best ways to improve your performance academically and in sporting terms is simply by getting a good night's sleep. Rest can also vastly improve your reactions and it can help you manage your emotions more effectively, at times when you need to.
W4 Nutrition - Daniel White
An insightful session with an introduction on how the brain works and how we need to eat to look after it. The importance of good nutrition, in relation to lifestyle and brain health, plus the nutrients we need to support brain function.
W5 The Decider – Michelle Ayres & Carol Vivian
Michelle and Carol are Guernsey-based cognitive behavioural psychotherapists.  In 2010, they developed The Decider out of their own clinical practice.  Both mental health nurses and cognitive behavioural psychotherapists, they were tasked in 2010 with introducing a CBT/DBT skills group in response to service need in Guernsey.
A brief introduction to The Decider Life Skills – proactive mental health skills for everyone. CBT (cognitive behavioural therapy) skills that are memorable, fun and easy to learn. Evidence based and effective.
The following workshops W6 and W7 are targeted at educationalists and will be drawing on practical applications of implementing creative and independent learning in schools.
W6 Building Powerful Learners (Secondary context)
Mrs Sue Plant.  Head of John Taylor Free School, Staffordshire
This workshop will explore ways in which secondary students can develop their capacity to think and learn for themselves.  Based on examples from a school where Ofsted rated all areas as outstanding, and also from the perspective of setting a school up from the start – Sue will share strategies and ideas for 11 – 18 year olds.  There will be ideas to implement in the classroom, and also ways in which the building learning power approach can influence all areas of school life including parental engagement, reports and tutorial time.
Sue has been a senior leader for over 13 years, an Interim Principal at an Outstanding School and Associate Trust Principal supporting Head teachers and Senior Teams across Multi-Academy Trusts.  She is currently Head of School at John Taylor Free School which opens in September 2018 for year 7 and grow year on year.  It is the first new secondary school in Staffordshire for 25 years and will provide an outstanding and inclusive education for 1,550 11–18 year olds when it reaches capacity.
W7 Building Powerful Learners (Primary context)
Tim Walters and Deborah Setters, Vauvert Primary School.
Following the highly successful development of a Growth Mindset over the last three years, and the recent publication of their book on Growth Mindset for schools, this workshop will take you through that development – for staff, pupils and parents.
It will be interactive with lots of ideas to take away, and a focus on the practical strategies and methods you can then use straight away in your school and classroom.