Back
23.08.18
GCSE Results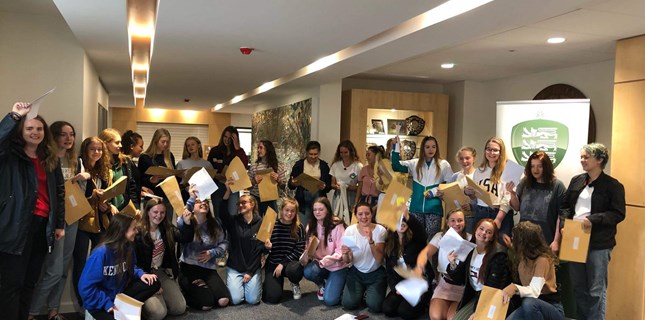 We are tremendously proud of our students' achievements and aware of the determination, hard work and resilience they have shown throughout their GCSE courses, alongside all that they have achieved both inside and outside of the classroom. We are delighted that the girls have achieved academic success, whilst also demonstrating their interest, engagement, and commitment to a wide range of activities both in and out of the College.
Our students are to be congratulated, as they have a range of ability and have worked both individually and collaboratively with their teachers, to ensure they can say they have achieved their best.
Results are similar to last year and subject wise there has been a strong performance across the board, including core subjects of English, Mathematics and Science. 96.5% of our students achieved five 9 to 4 (A*- C) grades, including English and Mathematics. 44.0% of our GCSE grades were 9/8 (A*) grades, 68.5% of grades were 9 to 7 (A*/A) grades and 85.3% were 9 to 6 (A* to B). The results achieved by our girls are testament to their hard–working attitude, the dedication and professionalism of our teachers at College, excellent operational support and positive parental engagement. Thank you to everyone and huge congratulations to the students!
57 students sat GCSEs this year. Katie Connolly, Hannah Langlois and Daisy Whiteman achieved all 9/A* grades and a further 13 students all 9/8 (A*/A). All of the girls can hold their heads up high and be confident that they can say that they achieved their best and have choices about what they do next.
We look forward to welcoming many students back in September to start their A–level courses, with the knowledge that they have successfully negotiated a key educational hurdle to move on to next year with confidence.
If there is anyone who is interested in making an application to join the College or our Sixth Form please contact our Registrar, Miss McClean, on registrar@ladiescollege.ac.gg for further information and meetings next week. 
Back